ASI Magazines Win Big
Tuesday July 20, 2010 | Filed under: News About ASI
The summer before my senior year at Ball State University, I scored a dream internship at the Dow Jones News Fund in Manhattan. The experience provided a solid foundation in journalism that's impacted my entire career.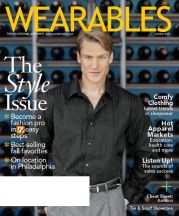 Today, I'm CEO of an organization that publishes six magazines. And, I can honestly say I've never been more proud of an editorial team than I am right now.
The American Society of Business Publication Editors just honored ASI magazines with 14 Azbee Awards of Excellence in editorial and design. Wearables magazine, edited by C.J. Mittica, was chosen a Top 10 Business Magazine of the Year. 
Not only that, ASI publications are the only b-to-b magazines for the ad specialty industry so honored this year. Other winning magazines in the 2010 competition include Bloomberg Businessweek, CFO, The Hollywood Reporter, Macworld and The American Lawyer.
To read our press release, click here.
Day in and day out, our team of editors, reporters, designers, researchers and photographers – spearheaded by publisher Rich Fairfield and editor-in-chief Melinda Ligos – do a spectacular job.  As the largest media and marketing organization serving the industry, we have tons of readers relying on us to consistently deliver news and information that will help their businesses thrive and grow.
ASBPE judges choose winners based on a careful review of everything from quality of writing, reporting and editing to layout, design and value to readers. If they had a category for allowing a boss to realize his dreams of journalism glory, we'd have won that, too. 
To everyone on the team – which includes two Dow Jones-sponsored interns I hope are dreaming just as big as I did – I offer my most sincere congratulations.
Let me know how our magazines have helped your business by posting a comment or emailing me here. I'm also on Twitter, LinkedIn and YouTube.