ASI Hits the Headlines in Dallas
Thursday February 4, 2010 | Filed under: ASI Shows, Media Coverage, News About ASI
Our Dallas trade show - which ended Wednesday after attracting 3,300 distributors - was big news in the Lone Star State this week.
The Dallas Morning News, a Pulitzer Prize winning paper with a circulation of 368,000, interviewed a number of exhibitors on the show floor and gave a terrific overview of our industry. Read the full story here.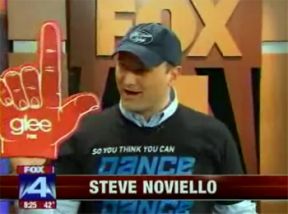 FOX4, in a four-minute segment called "Everyone loves freebies!" showcased a number of hot products in its live in-studio shoot.  And NBC5 also covered the show.  Click here to watch all the clips.
We're happy to report that even during a tough recession, show attendance was off just 3% from last year and up slightly from 2008.  Trends show the number of firms attending is about the same as last year, but each firm is bringing slightly fewer people, reflecting downsizing from a soft economy.
To read the press release, click here.
In addition to education, networking and entertainment, attendees were energized in an interactive keynote presentation by ASI's senior VP, Dale Denham, who advised attendees on how to build their brand and their business with social networking.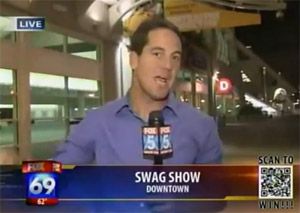 In a very lively keynote, which I discuss in another Tim's Take, Dale cut through the hype and showed people practical ways to benefit from social networking. The two key take-aways every salesperson can benefit from are:
Google rankings - because Google loves your social media profiles
Warming up sales calls - because your customers are telling you details that you can use to make your calls more personal
Dale says the three sites distributors should pay attention to are:
Facebook - for personal networking, as well as networking with clients who are comfortable connecting on Facebook
LinkedIn - for professional networking, as well as prospecting
Twitter - for branding and prospecting, including connecting with people you don't yet know
Everyone loved Dale's reference to Twitter as a place for narcissistic stalkers with ADHD, but also loved how valuable it is to salespeople.  For more great tips, find Dale on LinkedIn at www.linkedin.com/in/daledenham or on Twitter, at www.twitter.com/daledenham. 

You can also join him at the New York show May 4-6, where he'll once again be the keynote speaker and share incredible info on how suppliers and distributors can make money with social networking.

Let me know how social networking is helping your business by posting a comment or emailing me here.  Of course, I'm also on Twitter, LinkedIn and YouTube.