ASI Gets the Gold
Monday August 30, 2010 | Filed under: Guest Blog, News About ASI
I recently had the honor of accepting the Gold Award for service on behalf of ASI at the 23rd annual Proforma Convention and Family Reunion in Las Vegas.  This is the second year in a row ASI received this prestigious recognition.
This award, which is voted on by owners, is particularly gratifying because it recognizes the hard work and dedication of over 400 ASI employees who create, develop and support the many business tools and education resources Proforma owners use every day to grow their sales.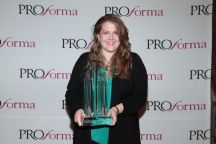 I've had the privilege of being one of ASI's contacts for the Proforma organization for more than 15 years, and I'm proud to be a part of the relationship we've developed. At the conference, I spoke to many owners who raved about their ASI services and support – and it reminded me of how fortunate I am to be a part of the ASI team.
To read the press release, click here.
Proforma is the second-largest distributor firm in the U.S. and now has more than 1,500 personnel using ESP to help clients with sourcing, idea generation and presentations. Proforma LogoMall sites get close to 1 million hits each month from end-buyers shopping for promotional items and ideas.
Here are a few of the great comments I heard from owners: 
"I could not run my business without ASI or ESP," said Sherry Novelli of Proforma Cornerstone Concepts. "My ability to source products for my clients and quickly turn those products into an online presentation has been the most invaluable tool for operating my business. I love you guys and the partnership we share."
"Without ASI and LogoMall, I would not be able to share with our customers such a vast number of available products," said Sherry Kennedy of Proforma A-Z Specialties. "The office loves ESP because we can search for current pricing or product information and have immediate results.  I cannot tell you how many orders I can attribute to both of these products."
"My business has benefited tremendously from the many technology tools that ASI offers," said Luis Ostos of Proforma DCS. "Our clients love the option of being able to do product research on their own time, from anywhere, by using LogoMall. And ESP Web offers my team the same flexibility, at the office or on the road, to research and present to our clients the information they request quickly and professionally."
Thank you, Proforma owners – we will continue to work hard to bring solutions that drive more promotional sales. And, congratulations to all my colleagues at ASI for the great support you provide our clients each and every day.
– Heather
Heather DiPrato is ASI's senior VP of distributor services. She can be reached at hdiprato@asicentral.com.