A Gift of Great Art
Tuesday December 21, 2010 | Filed under: Community, News About ASI
I love this time of year,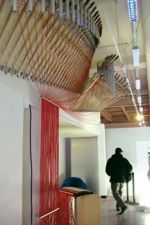 although it seems to last no longer than wrapping paper on a child's present. There's so much going on it's hard to take it all in. But if you happen to visit New York City over the holidays to see the tree or take in the show at Radio City, I urge you to carve out a little time to check out a couple of really cool, free exhibits anyone can enjoy:
Sympathetic Resonance is a huge interactive musical-instrument sculpture by Joshua Kirsch on exhibit through December 26 at the Wired store off Washington Square Park, in the old Tower Records. The piece uses the keys of a marimba, which is a mallet-percussion instrument of African origin, to sound notes triggered when someone plays the touch-sensitive aluminum keyboard. Click here to see video of Joshua performing his sculpture in Brooklyn earlier this year.
Jim Campbell's Scattered Light illuminates Madison Square Park through February 28. This outdoor sculpture features nearly 2,000 LEDs encased in standard light bulbs, suspended within an 80-foot-wide support structure that creates a vibrant light grid. The LED bulbs are programmed to flicker scattered light, creating the appearance of giant human shadows crossing a floating 3-D matrix of light. Click here to see a video of Jim discussing his light sculpture.
There's nothing I love more than touting the work of artists like Jim Campbell and Joshua Kirsch. So I was delighted when editors at Bucks Life magazine asked to feature some of the art and hand-crafted furniture I have in my home in their December holiday issue. The accompanying story talks about the way art imprinted my life as far back as grade school and shows off some pieces built by Hunterdon County, N.J.-based craftsman Tom Schlack. Click here and here to read the story and see the photos, which include a piece by Joshua in my living room.
December turned out to be a showcase month for me. Recently, The Palm Restaurant in Orlando, FL, where we host one of our annual trade shows, honored me by including a caricature of my likeness on its wall. The Palm is known for posting 200 to 300 local notables' likenesses alongside caricatures of regulars and celebrities. It's a huge deal to be included and I'm delighted to be considered a "local" in a city where I have so many great show memories. If you haven't yet registered for the ASI Orlando show taking place January 23-25, please click here.
I hope your December's been as fun as mine. Let me know how you're spending your holidays by posting a comment or emailing me here. I'm also on Twitter, LinkedIn and YouTube.