Who's on the HOT List?
Wednesday August 12, 2009 | Filed under: Community, Industry Initiatives, Members, News About ASI
It's that time of year again. Rising temps, trips to the pool - and the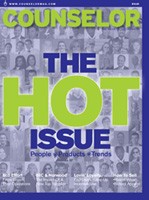 second annual Counselor HOT issue.
Our magazine's editors survey the scene and showcase the hottest people and products in the industry, and this year's issue is no exception.  You'll discover some surprises among the 40 names on the HOT people list.  Are you on it? To find out, click here. 
It never fails to amaze me just how innovative this industry is, which is reflected in the "Objects of Hotness" section, featuring dozens of great products to sell to clients.  There's everything from a biodegradable first aid kit and basketball-shaped foam hat to poolside saddle tote bags and an iPod speaker bag with a carabiner.
For the complete montage of the products, click here.
If that wasn't enough, Counselor also reports on key business trends affecting how ad specialty companies are moving forward in today's marketplace.  For instance, did you know green is the new black?
Hot people and products, valuable strategies and intriguing ideas.  It's all in the issue.  Also, we hope to see you in Las Vegas at the HOT Party on Wednesday, September 16, at the Christian Audigier Nightclub in Treasure Island.  It'll be a celebration of all things hot and will be happening during the new ASI Holiday & Incentives Expo. 
Tell me what or who you think is hot - or even what we may have missed - by posting a comment now or emailing me here.