Virtual Trade Show Draws 2,000+ Distributors; Next in August
Thursday May 21, 2009 | Filed under: ASI Shows, Industry Initiatives, Member Benefits, Members, News About ASI
At a time when other shows are down, ASI is delivering.  Our first industry virtual trade show took full advantage of the latest technologies and attracted over 2,000 distributors. Demand from suppliers was so great we've added a second virtual trade show, scheduled for Wednesday, August 19.
For those who could not attend this week's show, it will be available on demand at www.asicentral.com/vts, beginning Tuesday, May 26.  
Read the press release here.
No one else in the industry is doing more for distributors, suppliers and decorators.  By offering a cutting-edge virtual trade show, ASI proved it's able to respond effectively to the times with the resources you need now.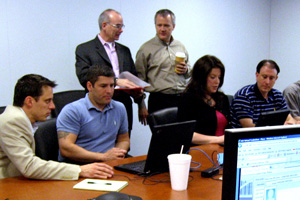 Above and below: ASI staff interacting with attendees in the show's online chat rooms.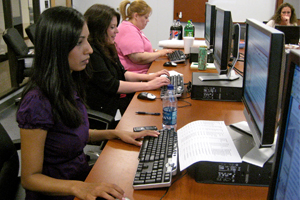 In addition to networking and selling, our online event also featured leading education sessions for distributors.  Sessions included sales tips, research from ASI's advertising specialties impressions study, information from the Counselor State of the Industry report, and a live broadcast of the ASI Internet Radio Show that attracted over 200 live listeners. 
Reactions from attendees were positive:
"I attended the virtual trade show," said Joel D. Schaffer, CEO of Soundline LLC (asi/88241).  "While the food was tasteless, ASI did a great job.  The 'experience' was top shelf." 
"ASI and the participating vendors have done an excellent job and it was an interesting and informative experience," said Marsha Londe, owner of Tango! (asi/828198).  "It's worth an hour to explore simply to see what's going on with cyber-selling.  The more informed we are, the better we can work with our clients."
"Sit in the comfort of your own office and visit and network," said Sheery Lochstoer, owner of K-N-A Sales LLC (asi/238392).  "Got to love it."
The next event in August will build on these great features we offered this week:
Exhibit Hall.  Supplier booths featuring product demonstrations, catalogs and samples.  Distributors and suppliers could chat online inside each booth.     
Education Center.  Distributors turned challenges into opportunities with a variety of leading industry education sessions, downloadable white papers and ASI's latest industry tips and techniques to expand business.  
Catalog & Information Room.  One-stop shopping for catalogs and white papers from suppliers, which were all accessible in a PDF format that could be viewed and saved.
Registration for the next ASI Virtual Trade Show is free for distributors - more information coming soon - and suppliers can exhibit.  To exhibit, contact Dan Dienna, advertising director for catalogs and electronics, at ddienna@asicentral.com.   
Bookmark this on Delicious