Time to Get Focused on the Recovery
Wednesday February 25, 2009 | Filed under: Using Ad Specialties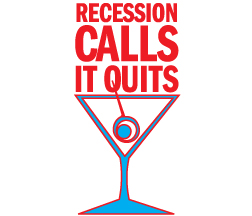 I'm getting tired of the doom and gloom about the economy in the news media, which was originally quick to call the beginning of this recession and is happy to continue providing the play-by-play on an hourly basis.
While certainly many of us have been affected by the economic environment, there are many things we can do to help us improve sales - like marketing smarter, networking more, being better informed and asking clients how business has changed so you can understand how to help. 
I also think we need to get out of negative thinking as a group and be responsible for improving our own psychological outlook. 
So for a few hours this weekend, I'm hosting a gathering of friends to celebrate my own personal declaration of the end of the recession.  Here's part of my invitation:  "So, rather than wait for the economists and their cloudy crystal balls, several of us looked into our glass half-full and saw in tiny print:  Recession calls it quits."
Maybe you could host a networking or business social for your clients and friends in your area?  You might get some new prospects, learn how you can help your customers be more successful, and maybe get a new order? 
I'm having snacks and beverages at mine and ordering several promotional products with the logo you see in this post to drive my message home with attendees and to remind them that we need to remain focused. 
What are you doing to find ways to win in this economy? Tell me what you think anytime - post a comment now or email me at tim.andrews@asicentral.com. 
Bookmark this on Delicious