The Gift Book - Get More Profit Now
Monday August 10, 2009 | Filed under: Members, News About ASI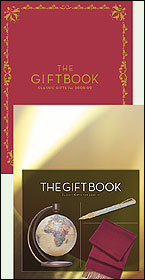 A favorite saying around my Indiana hometown was "the proof is in the pudding."  Today we'd say "show me the money."  
When it comes to gift buying, that money is in the prime fourth-quarter selling season, when more industry sales occur than any other period.
It's the time of year when buyers are searching for quality incentive items and products for corporate gift-giving programs and the best place to look for those is in The Gift Book.
Launched today, this elegant catalog features over 400 products from exclusive suppliers and is a proven selling tool that helps distributors drive those crucial fourth-quarter sales - your last major drive for extra profit this year.
It's clear to me companies should do everything they can to reinforce their relationships with their customers and what better way than to thank them with an unforgettable gift?  
Now is a great time to get a slice of next year's promotional budget by presenting items from this catalog that create a positive impression and never go out of style.
As a special offer, distributors ordering The Gift Book will also receive an e-Gift Book electronic catalog, accessible directly from their LogoMall website, to use as a follow-up tool in emails to customers and prospects.  The e-Gift Book features the classy brown and tan cover pictured above - one of the two covers available for the print edition.
To order The Gift Book online, click here. For more information, contact Dan Brown, director of distributor services, at dbrown@asicentral.com. 
I'd love to hear about your experiences with The Gift Book, so post a comment now or email me here.