Shrink Your Carbon Footprint with Free UPS Programs
Thursday January 29, 2009 | Filed under: Education, Guest Blog, Industry Initiatives, Member Benefits

Whether it's driving a vehicle, heating your home or turning on a light, your effect on the environment can be measured.  This measurement is called your carbon footprint.  As an industry, what can we do to be environmentally responsible and reduce our carbon footprint?
As you may know, UPS is an ASI affiliate providing members with up to 45% savings on shipments.  There are a few ways UPS is thinking green and you can help by using its Reusable Express Envelopes.  These are made of recycled paper and can also be reused. With these envelopes, the recipient of a package can use the same envelope to ship back to the sender or to another recipient.  Look for the new Reusable Express Envelope in your Register Box from ASI.
UPS has also partnered with Costco to recycle computers and electronic devices.  Costco members log-in online to calculate an estimated value on the goods.  Members print a UPS shipping label and send it to the Costco partner, GreenSight, for free.  Credits can be applied to a future Costco purchase.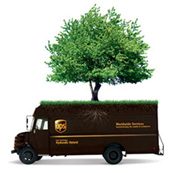 UPS environmental highlights include:
-  20,000:  The number of low-emission vehicles in the "green" fleet.
-  126 million:  The number of miles driven by UPS alternative fuel vehicles since 2000.
-  84 million:  Total sheets of paper saved each year using Delivery Information Acquisition Devices (DIADs), the handheld device UPS uses to scan packages.  This saves 7,308 trees a year.
-  124 million:  The number of sheets of paper that could be eliminated annually if UPS customers converted to Paperless Billing. 
Read about other UPS green initiatives here.  Not enrolled in the UPS discount program from ASI?  Visit asicentral.com/ups.
- Karyn Coates is Executive Director of Member Benefits.  Email her here.
Bookmark this on Delicious