Now's Your Time to Advertise and Get the Word out
Monday March 23, 2009 | Filed under: Industry Initiatives, Member Benefits, News About ASI, Using Ad Specialties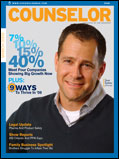 This is a time for making choices and suppliers are increasingly selecting Counselor and Advantages to get their message out.
In fact, Counselor was ranked No. 1 in ad pages for 2008 among all business-to-business magazines, which just goes to prove what I've been saying all along - suppliers know that advertising works and now's the time to ramp it up and reach the right qualified distributors.
Read the press release here. 
A recent article in min's b2b, a publication that tracks the magazine industry, also noted that Advantages magazine ranked No. 3.  Together with Counselor, the two books accounted for 15% of all ad pages among the top 25 business-to-business publications in the nation. 
The article also ranked magazines in the advertising/marketing/sales management category for North America, where Advantages, Counselor and Successful Promotions comprised 29% of all ad pages and Successful Promotions posted the highest percentage increase versus the prior year.  Competing industry publications accounted for only 18% of ad pages.
I believe the rankings help get the word out that the advertising specialty industry is important and vibrant.
What are you doing to get the word out about your business right now?
Post a comment now or email me at tim.andrews@asicentral.com. 
Bookmark this on Delicious