Industry Captain Retiring After 47 Years
Monday March 2, 2009 | Filed under: Guest Blog, Industry Initiatives, News About ASI
From Matthew Cohn, vice chairman of ASI Family of Companies:
When Judy Moore-Keefe first began working for the Cohn family, the year was 1962 and the company was Santa Claus Industries. Judy started out as a typist for Maurice Cohn (father of ASI chairman Norman Cohn).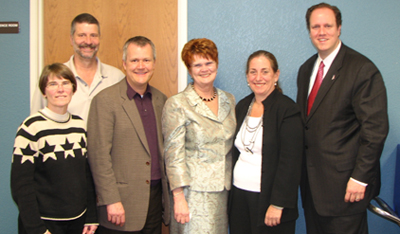 When ASI Computer Systems was started in 1978, Judy became the original support person and trainer for the system. Back then -- when just a half million computers were in use in the U.S. -- Judy was a rarity in a field traditionally dominated by men.
From left in photo: Julie Thomas, Dave Wirth, Tim Andrews (president and CEO of ASI), Judy Moore-Keefe, Debra Cohn, and Matthew Cohn (son of ASI chairman Norman Cohn).
How times have changed. Fast forward 47 years and there are now more than one billion computers in use worldwide. And Judy is retiring as director of operations at ASI Computer Systems.
From now on, every day is Saturday for Judy, who plans to spend more time with family (especially grandkids) and travel more with her husband.
ASI Chairman Norman Cohn says of the long-term employee, "Judy has been the hardest working and most consistent force in driving ASI Computer Systems forward. Her tireless efforts and constant attention to detail have proven invaluable to this company as well as to countless organizations and people whom she has worked with over her outstanding career."
Calling Judy an integral part of the team, Dave Wirth, president and COO of ASI Computer Systems, says her leadership and support will be missed. "I wish her the absolute best and hope she can enjoy this next phase of life as much as I have enjoyed my time working with her over the last 30 years," says Dave.
"It is really a tribute to the Cohns and how they went about building good and loyal employees that are willing to work for 47 years for the same company."
At retirement, Judy's responsibilities included all development, support and training of the ProfitMaker systems. Judy worked most closely with the management team that included Dave and Julie Thomas, director of administration and finance. Together, they brought more than 100 years of experience to the promotional products industry.
For over 25 years, ASI Computer Systems has been a leader in providing complete business management software solutions to the promotional products and document management industries.
ASI Computer Systems began out of a need for computer software designed specifically for the promotional products industry. Prior to the introduction of the computer division, Maurice and his son, Norman Cohn, had been very active in the specialty advertising industry. At one time their business included five lines that were marketed nationwide.
Due to the many years of experience in the specialty industry, the ASI software was born, and included the necessary requirements and specifications essential to the promotional products industry.
Bookmark this on Delicious