Idea Showcase is ideal - fits in your pocket!
Friday November 20, 2009 | Filed under: News About ASI
What's packed with great promo items, terrific ideas and fits in your pocket?  The hot-off-the-press 2010 spring Idea Showcase catalog of course.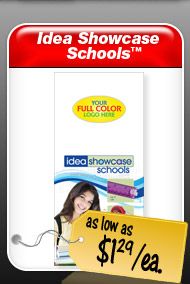 Idea Showcase is the ideal catalog in innumerable ways.  No matter who your client or what their budget, there's something for everyone among nearly 400 products, all priced between $1 and $40. 
And for those environmentally-conscious clients, there's a special "Go Green" section. There's also a section featuring items under $5, and a budget and planning index that makes it simple for buyers to choose items based on their clients' budgets.
Act fast. Guaranteed circulation is 250,000. However, supplies are limited and we've already received pre-orders totaling nearly 60,000 copies.
Idea Showcase is envelope-ready and perfect for mailing, sliding easily into a No. 10 envelope. Its handy size also works well as a leave-behind on client sales calls.    
This catalog is one of our most popular and reliable because it's packed with options for any promotional campaign.  Don't forget - research shows catalogs remain a proven advertising vehicle.
And each copy of Idea Showcase can be imprinted with the distributor's logo and contact information on the cover any time throughout the year, creating a personalized marketing approach that differentiates distributors from their competition.
For more details, read the press release by clicking here.
Let me know how Idea Showcase has performed for you by posting a comment or emailing me here.  I'm also on Twitter, LinkedIn and YouTube.