Hot Product Videos and Record Dallas Attendance
Friday February 6, 2009 | Filed under: ASI Shows, Education, Member Benefits, Members, News About ASI, Using Ad Specialties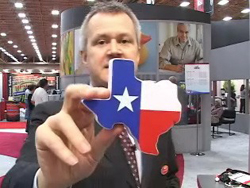 The ASI Show in Dallas wrapped up today with record attendance of 3,900 distributors, up 10% versus last year and representing 1,425 firms.  With strong attendance at ASI Orlando in January, and the new Dallas record, we've delivered the most successful first-quarter industry shows in 2009. 
Read the press release here.
I enjoyed checking out "must have" products for this year, meeting with distributors and suppliers, and of course sampling Texas barbeque at Eddie's Deen's Ranch.
Also, watch my products video from the ASI booth featuring these cool items for 2009, like:
Zip 'n Clip Speaker Case from Ariel Premium Supply, asi/36730
Rubik's Cube puzzle and USB drive from Prime Line, asi/79530
Solis Pen from BIC Graphic USA, asi/40480
V-Neck Vine Leaf Sweater from Edwards Garment, asi/51752
Lighted St. Patty's Day Hat from Brighter Promotions Line (formerly Chemical Light), asi/44888
The Longhorns Salsa and Chili Mix Tailgate Kit, from Hot Sauce Harry's Inc., asi/61826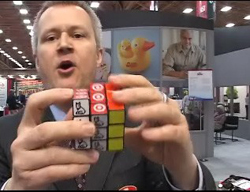 Next I headed to a booth that looked like a sports stadium - complete with scoreboard - with foam hands, pom-poms and digitally-printed seat pads from Spirit Hand Line, asi/88740. Watch the video here.
There's also my video on closing day, featuring the new stainless steel drinkware with digital wrap-around printing and a double-wall acrylic travel cup with leak-proof seal. 
They're all great products that will brighten your day and interest clients, no matter what the economic challenges are.  Now, more than ever, marketers need the impact and high ROI that advertising specialties provide.
Everyone's been really excited after attending Don Hutson's keynote and we're ready to put into action the sales tools and strategies he's devised to get any business cracking.  Everyone who attended his session also received a copy of his book, The One-Minute Entrepreneur: How to Prosper Beyond Your Wildest Dreams. 
Along with all the great distributors and suppliers I met and friends I reconnected with, I'm returning to ASI more energized for the year and with a really interesting piece of Texas trivia:  In the Lone Star State, it's illegal to put graffiti on someone else's cow.
What products have you seen that caught your eye in Dallas or elsewhere?
Post a comment on the blog now or email me anytime at tim.andrews@asicentral.com.