Holiday & Incentives Expo Delivers
Thursday September 17, 2009 | Filed under: ASI Shows, Community, News About ASI
We just wrapped up a great show in Las Vegas and I'm happy to report the ASI Holiday & Incentives Expo attracted distributors and decorators from 48 states and 12 countries. Education Day drew more than 500 distributors during the first day of the show.
We designed the expo to accomplish two key things:  help you find the hottest products available to clinch those important fourth-quarter sales, and provide the crème de la crème of industry suppliers.  Suppliers were qualified in advance, and had achieved four- or five-stars in the ASI Supplier Ratings System. 
From what you told me on the show floor, and at great networking events like Counselor magazine's HOT party at Christian Audigier Nightclub and the Las Vegas Reception, we delivered.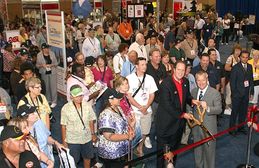 Here are some supplier comments:
"The traffic has almost been too heavy," shared Karen Cohen, vice president, All-In-One (asi/34256). "We've been having a hard time keeping up with the amount of distributors stopping by. Distributors are asking questions and wanting to learn about the product - there's very little 'scan and go.' "
"It has been great, it's been action-packed," said Bonni Sandy, executive vice president, Dard Products, (asi/48500).  "The distributors are incredibly serious and know the fourth quarter is going to pick up.  We've seen good quality distributors, including a lot of the Top 40."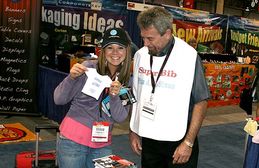 And here's what some of the 1,500 distributors said:
"The ASI Holiday & Incentives Expo has been terrific," said Ross Silverstein, president and CEO, iPROMOTEu (asi/232119).  "This time of year is perfect for a show of this sort.  I've met with a number of suppliers that I don't usually see and I definitely found many new products that I haven't seen in the past."
"It's been absolutely wonderful, some of the best vendors are here," said Caren Mikesh, owner, Caren Mikesh & Associates Promos (asi/271129).  "Having only suppliers with four or more stars in the ASI Supplier Ratings System is really great.  These are the companies who have good, quality products with good names behind them."
I also got great feedback on our "Secrets from the Pros: Cash in on the $45 Billion Incentive Market" panel discussion and I hope many of you got to see the amazing musical, The Lion King, which we offered at a special discount price.
You can read the press release here.
I'd love to hear about your experiences in Vegas, so post a comment or email me here.  I'm also on Twitter and LinkedIn.