General Colin L. Powell, USA (Ret.) Speaking at Orlando Show
Tuesday August 18, 2009 | Filed under: ASI Shows, Industry Initiatives, News About ASI
We're all fighting to advance our businesses during tumultuous times, which is why I'm so pleased General Colin Powell - a dedicated soldier and accomplished statesman - is joining us in Orlando for a must-see event certain to propel us stronger and smarter into 2010 and beyond.
General Powell electrified a packed house with an incredibly moving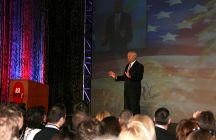 and motivating speech at a 2007 show that pulled the entire crowd to its feet. I can't wait to see how he inspires us in Orlando during such a critical time in our history.  The former Chairman of Joint Chiefs of Staff and Secretary of State will be our keynote speaker Tuesday, January 5, 2010, at The ASI Show.
Throughout his distinguished career, General Powell looked well beyond single battles to strategies that changed the playing field altogether. That's exactly what we all need to do now: determine where we want to go and then make it happen by changing business models, leading sales and pushing growth.
During his exclusive presentation - "Leadership: Inspiration for Extraordinary Times" - General Powell will discuss how each of us can emulate the leadership skills needed to remain focused, take responsibility, work toward improving processes within our organizations and motivate our employees in challenging times. Strategies for practicing true leadership and taking charge during times of great change will be covered and discussed.
General Powell is, in my mind, one of the most admired leadership experts in America.  He's been a leader most of his life and has received numerous military, civilian and foreign state awards, including an honorary knighthood bestowed by H.M. Queen Elizabeth II of Great Britain.
He's also the best-selling author of My American Journey and remains active as founder of the Colin Powell Policy Center at the City College of New York (his alma mater).
Seating for this extraordinary event will be limited and ASI members should register for ASI Orlando at www.asishow.com by September 30 to be guaranteed a seat. 
The ASI Show Orlando is the industry's first national show of the year and largest event on the East Coast, is taking place on Sunday, January 3, through Tuesday, January 5, 2010.  The schedule will feature a full day of ASI Education (January 3), followed by two exhibit days (January 4-5).  General Powell's keynote will be on Tuesday morning.
General Powell's topic will be timely, as distributors, suppliers and decorators aim to kick-off the New Year in a positive way. 
Let me know what you think of this announcement or the upcoming shows.  Post a comment now or email me here.