First Qtr '09 Sales Off 17.6%
Friday April 24, 2009 | Filed under: Community, Industry Initiatives
Today we announced that first quarter 2009 sales were off 17.6%. 
And, in 2008, overall advertising specialty industry sales reached $19.8 billion, up 1.2 percent over 2007, as estimated in the January 20, 2009 edition of PromoGram from Counselor magazine.
For the press release, click here.
The exclusive ASI first quarter sales report showed that the year-over-year decline represented a decrease of $700 million in ad specialty sales compared to first quarter 2008.  Less than a quarter of distributors (24%) reported an increase in sales in the early months of 2009.  Only two quarters ago, 40% had reported an increase in sales.
For the full year 2008, spending on advertising specialties, or promotional products - items and incentives branded with a company logo or marketing message - was 3% greater than radio advertising*, $12.8 billion greater than outdoor display ads** and ahead of the 2.6% estimated decline in overall U.S. advertising for 2008*** (Radio Advertising Bureau, Outdoor Advertising Association of America and The Nielsen Company are the sources).  The industry increase also matched the 1.1 percent growth rate for the United States GDP for the same period.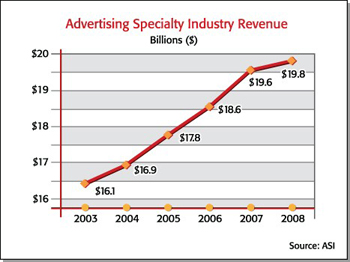 In this time of economic challenges, the estimate for advertising specialty sales in 2008 indicates a better year than what 2009 is shaping up to be, so we're cautiously optimistic for 2009, but one of the smartest things businesses can do right now is increase their marketing and advertising to grab market share.  
We invest $1.3 million each year to educate suppliers and distributors on how to market themselves more efficiently, network more effectively and reach qualified business partners, and an exclusive ASI impressions study is available here that provides ROI figures that prove the value of advertising specialties in marketing campaigns.
Industry companies are optimistic about 2009, but continue to watch several factors impacting the industry:
1)  Volatile economic conditions in North America.
2)  Increasing demand for "green" products, despite the recession.
3)  Continuing fluctuations of prices for materials used in manufacturing. 
To learn more about the quarterly sales analysis, click here.    
Bookmark this on Delicious