ESP Upgrade and Photos From Distributor Choice Awards
Sunday January 4, 2009 | Filed under: ASI Shows, Industry Initiatives, News About ASI
It's Day 2 of the ASI Show Orlando, featuring non-stop activities and opportunities for distributors and suppliers to network with each other, learn more so they can sell more and position themselves for 2009.

In breaking news, we announced an upgrade to ESP Online that allows suppliers and distributors to network online with peers and communicate more rapidly with customers.
Highlights of the upgrade include:
New end-buyer ordering, with an interactive CenterStageTM presentation that allows a customer to place an order for the products shown in the presentation. 
PromoCafe, which allows the 32,000 users of ESP Online to communicate with other members of the ESP Online community instantly via chat rooms and instant messages. At launch, this creates the largest online presence of distributors in the world.
For the full press release with many more new features, click here.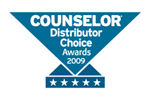 The show continued into the night with the Counselor Distributor Choice Awards, which is like the Viewers Choice Awards for our industry. 
Competition for these awards is intense, since balloting from among the 22,000 distributor firms in the ASI network represents what the industry really thinks of suppliers in individual categories.  Also, the nominations lead to the ultimate prize, the Supplier of the Year, which is Leed's.
Click here for photos and to see the list of winners.
Post a comment now or email me anytime at tim.andrews@asicentral.com.
Bookmark this on Delicious