Educating Buyers in Today's Philadelphia Inquirer
Monday December 21, 2009 | Filed under: Industry Initiatives, Media Coverage, News About ASI, Using Ad Specialties
Monday's Philadelphia Inquirer featured a story about the growth of hand sanitizers in our industry - educating end-buyers about the value of providing useful advertising specialties to their clients and prospects. 
To watch the video, "Philadelphia Business Today" (starts automatically), click here.
To read the article online, click here.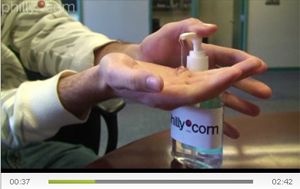 The story centers on how hand sanitizers now rival pens as one of the most popular logoed items. As we reported last week, searches of the key words "hand sanitizers" by promotional products distributors via ESP Online jumped 439% for the period between October 2009 and October 2008. 
Only searches for pens - which for years have been the best-selling logoed product in the promotional products industry - were higher that period.  In addition, searches for sanitizer products of all kinds jumped by triple digits this year. 
Send the link to my blog (http://www.timandrewsblog.com/) to all your clients and prospects, as an idea for a product they might be interested in for their customers.
What's your hottest product for 2009?  Please post a comment or email me here.  I'm also on Twitter, LinkedIn and YouTube.