Counselor Wins Third Neal Award, Stitches Nominated
Friday March 27, 2009 | Filed under: Industry Initiatives, News About ASI, Using Ad Specialties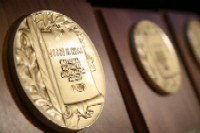 Counselor magazine just won its third Neal Award in a row for editorial excellence. 
The Neal Awards are considered to be the Pulitzer Prize of the business press and Counselor was selected as a winner for "best news coverage."   
The winning series of news articles was written by editor Andy Cohen, an eight-time Neal Award-winner, whose guidance helped Counselor take home its first Neal in 2007. 
For the press release, click here. 
I believe this recognition reflects our strong commitment to independence, objectivity and overall excellence that readers rely on each month to help them grow their business and make smarter, better decisions.
Also, Stitches magazine from ASI, serving embroiderers and equipment manufacturers, was a finalist for its first Neal Award.  Nicole Rollender is the magazine's editor, and the nomination was for an ongoing feature series called "Business Spotlight: The Next Level."  While it didn't win, it competed with well-known national publishers, including Hearst, publisher of O, The Oprah Magazine.   
All told, ASI's magazines have won nine nationally-recognized writing, reporting and design awards, including its three Jesse H. Neal Awards.
I couldn't be more proud of our entire editorial staff and many of our 26,000 members, who contribute and help make Counselor and all of our publications some of the best in North America. 
For more about the Neal Awards, click here.
Also, a reminder that American Business Media, host of the Neal Awards, has extended its deadline for the upcoming "sales promotion awards" to March 30 and is looking for more entries to round out the competition.  The awards honor promotional and collateral materials and more information is here.
Tell me about your latest accomplishment.  Post a comment now or email me by clicking here.
Bookmark this on Delicious