Counselor Survey Shows Higher Employee Morale
Tuesday July 14, 2009 | Filed under: Community, Research
What is your company doing to boost morale?  Counselor magazine's second annual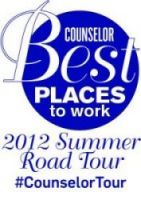 Best Places to Work survey indicates higher morale at industry firms.  Interesting, considering the difficult economic times.
In fact, employees at industry firms gave such high marks to their companies this year, Counselor expanded its list from 50 top companies to 60.
Our editor-in-chief, Melinda Ligos, says that while many firms have had layoffs, remaining employees feel valued and are confident in their company's leadership.
For the full list of 60 companies, read the press release here.
The companies highlighted are coming up with innovative strategies for motivating their employees, such as more generous 401(k) packages and benefit plans and creative and engaging programs.  One company even created a "fun time committee" that regularly plans unique corporate outings, like golf contests and local concerts.
Final rankings among the top companies, including the number-one firm, will be announced in the September issue of Counselor, where you can learn what ideas leading industry employers are putting into motion to increase staff retention, satisfaction, productivity, creativity and sales performance.
Let me know how your company is trying to boost morale - post a comment on the blog or email me here.