Cool Products Video and HOT Party Photos
Thursday September 17, 2009 | Filed under: ASI Shows, Community, Using Ad Specialties
Direct from the floor of the ASI Holiday & Incentives Expo in Las Vegas - here's my first cool products video, with seven unique products your clients will love for the all-important fall and holiday selling seasons: 
•  Silicon Drink-Thru Top Mug and Stainless Steel Jean-Style Water Bottle, from Berney-Karp Inc. (asi/40261):  dishwater-safe porcelain mug that's perfect for coffee and tea lovers and a unique jean-style water bottle kids will go bonkers for. 
•  Bamboo Wine and Cheese Plate, from Aunt Beth's Cookie Keepers (asi/37465):  hand-crafted, elegant and surprisingly strong.  Perfect for holiday parties.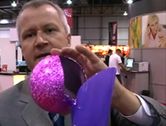 • Two-Gallon Cooler, from VP Brand (asi/93997):  made in the USA, this hefty cooler with its huge, digitally-printed and four-color label is ideal for those big events.
• Executive Cookie Box with Cookies, from Admints & Zagabor (asi/31516):  stylish and sophisticated and filled with really tasty cookies your clients will devour.
• Water Scope, from Atlantis Time-Line (asi/37385):  this very unusual, incredibly practical Christmas tree watering scope is perfect for the holidays.
• Chromax Titanium Golf Ball, from Vegas Golf (asi/87605):  it wouldn't be Vegas without some serious glitter, and the sparkly "Vegas Golf Ball" certainly fits the bill.
Click here to watch the video.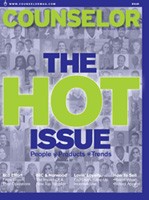 And I know they say "What happens in Vegas, stays in Vegas," but I'm going to share our photos from Counselor magazine's HOT party at Christian Audigier Nightclub, so click here to see who's shaking up the industry.  Be sure to turn the music on.
I'd love to hear about your Vegas experiences, so post a comment now or email me here. I'm also on Twitter and LinkedIn.
< >
< >