Colin Powell Live Q+A Tuesday
Thursday November 12, 2009 | Filed under: ASI Shows, News About ASI
If you've ever wanted to question a general, now's your chance.  General Colin L. Powell, USA (ret.), the former Chairman of Joint Chiefs of Staff and Secretary of State, is the featured guest on ASI's Internet Radio show this coming Tuesday at 10:30 am EST, and he's taking your questions about leadership.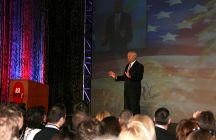 To listen and watch the live video of the show in the studio, go to asicentral.com/radio. To ask a leadership-related question, call 215-953-4979 at approximately 10:20 a.m. EST on Tuesday.  If you already know what you want to ask, just email your question now to radio@asicentral.com.
If you've never tuned in for the radio show, you're in for a treat.  Every Tuesday from 10:30-11 a.m., the five co-hosts of the ASI Internet Radio show inform, amuse and astonish, attracting an ever-widening audience of loyal listeners.
The hosts - Melinda Ligos, Andy Cohen, Kathy Huston, Michele Bell and Joe ("The Joe Show") Haley - offer a weekly round up of industry news, controversies, trends and topics.  Tuesday's show will be devoted exclusively to General Powell, your questions and the industry news.
General Powell is also our keynote speaker Tuesday, January 5, at The ASI Show Orlando.  He'll discuss ways we can emulate the leadership skills needed to remain focused, take responsibility, work toward improving processes within our organizations and motivate our employees in challenging times.
Seating for this extraordinary event will be limited and ASI members should register now for ASI Orlando at asishow.com to be guaranteed a seat. 
What question do you think most people will ask General Powell?  
Post a comment or email me here.  I'm also on Twitter, LinkedIn and YouTube.