Charitable giving: Dig a little deeper
Thursday April 2, 2009 | Filed under: Community, Members, Using Ad Specialties
No matter what your personal situation, it's a guarantee somebody out there has it worse, which is why it's more important than ever to give.
Right now, organizations like food banks and homeless centers are in critical need, especially since many of those organizations depend on contributions from foundations that are feeling the pinch.
Here at ASI, we have a longstanding tradition of giving - in good times and bad.  Last year alone, United Way received about $23,000 from ASI employees, including the company match.  ASI is a family-owned company, chaired by Norman Cohn, which also believes strongly in giving back.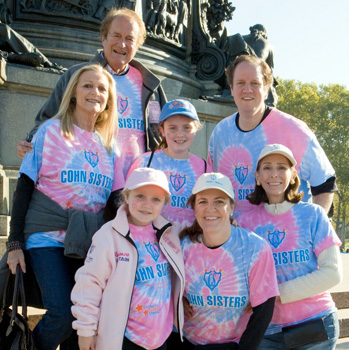 Above and below:  The Cohn family at this year's Juvenile Diabetes Research Foundation fundraising walk.  Left to right:  Suzanne Cohn, Norman's wife;  Norman Cohn;  Sydney (middle), Matthew's daughter;  Mackenzie (front left), Matthew's daughter; Lea (front center), Matthew's wife;  and Jennifer Morrison (front right), Lea's mother.
Norman's son, Matthew, vice chairman, and Matthew's two young daughters, Mackenzie and Sydney, have spearheaded a drive (www.cohnsisters.com) to help cure diabetes and have raised nearly $300,000 so far this year - and a total of over $700,000 over the last two years.  Many industry folks generously supported the team with donations or products that were used during this year's walk.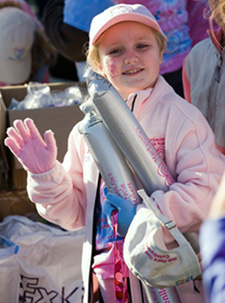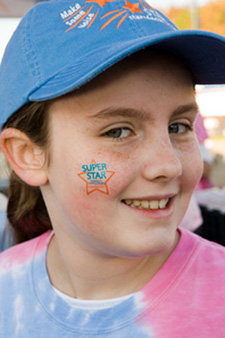 Even if you don't have a dime to spare, there are other ways of giving back.  Volunteer time at a community organization, clean out your closet and bring clothes to a homeless shelter or donate blood.  Believe me, you'll feel great.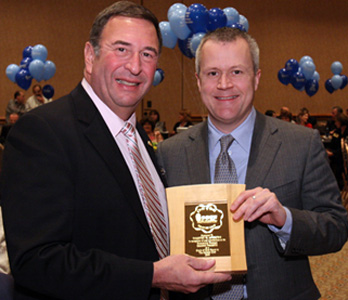 ASI is recognized as platinum-level sponsor for a total pledge of $120,000 to the Promotional Products Education Foundation. Here I am receiving an award on behalf of contributions made by the Cohn family and ASI, from Wayne Greenberg, left, account manager for Geiger.
Our employees feel great all year long by contributing to a wide variety of causes, including the Adopt-a-Family program with our local American Red Cross, which a good majority of our staff participate in each year and have contributed over $11,000 to since 2005.   
We're also involved with the Bucks-Montgomery Center for Human Services food drive, MANNA, Boy Scouts food drive, Toys For Tots, A Woman's Place cell phone drive, and the Ronald McDonald House.  The list goes on.
I'm not sharing this to toot ASI's horn, but to remind everyone that we can't forget others who still need our help, especially in these economic times.  Every dollar counts, and every dime matters.
As more floods affect our colleagues and friends in North Dakota and other weather-related disasters are becoming a challenge for people in several states around the nation, please consider donating to the Red Cross Disaster Relief Fund here.
Tell me how you or your company contributes.  Post a comment now or email me here.
Bookmark this on Delicious