ASI Show Orlando Posts Strong Attendance | Video
Monday January 5, 2009 | Filed under: ASI Shows, Industry Initiatives, News About ASI
This has been a strong show, with preliminary attendance of about 5,200, equivalent to last year, from more than 2,000 distributor firms.  
Click here to watch a video wrap-up that also features a new notebook made from elephant poo from Spector & Co.  No joke.
In addition to education, networking and entertainment, attendees were energized by a two-hour business and personal coaching session by Tony Robbins, who has worked with the most successful entertainment, sports and business and political leaders in the world. 
The 1,200-seat auditorium was packed and much of the session was spent with distributors and suppliers on their feet interacting with each other and Tony Robbins, as he explained how to capture market share, grow your business and flourish in challenging personal and business times.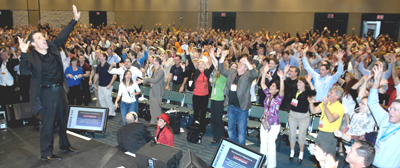 There's no way someone didn't leave the two hours with Tony Robbins without having a positive outlook on their business and their life as we enter 2009.  Check out the crowd with him in this photo.
Jeanne Slack, of JS Promotions, said this:  "The best gift ASI could have given the industry was Tony Robbins.  I noticed a big change in people's attitudes today as opposed to yesterday's show - shifting from being focused on a weak fourth quarter to how strong they can perform in 2009."
Click here for the full press release on our attendance. 
We also broke news today about a time-saving integration for ProfitMaker that pulls products and pricing information directly from ESP Online right into ProfitMaker.  Distributors and suppliers got a chance to road test this integration, along with a new look and feel for the program.
Click here for the full press release on the new and improved ProfitMaker.
Last night, we enjoyed two really exciting events: the ASI Fashion Show, featuring the season's hottest new looks in casual wear, and the ASI Show Gala Celebration at Universal Studios. In a word, the thrill rides, food and entertainment were outrageous. I met a number of real characters - and not all of them were in costume! I am really sorry this show has come to an end. But we're geared up and ready for Dallas in February.
Click here for our fashion show photos.
As we leave Orlando, I'm sure many of us will be putting into action the advice given today by business guru Tony Robbins, who inspired us to command peak performance from ourselves and our employees.
As always, I welcome your input. Post a comment on the blog now or email me at tim.andrews@asicentral.com.