2010 Power Summit Announced - Special Pricing
Wednesday November 18, 2009 | Filed under: Industry Initiatives, Member Benefits, News About ASI
How does sunny Florida in November sound to you?  Then you'll be happy to hear registration's now open for ASI's 2010 Power Summit - at special rates for early birds.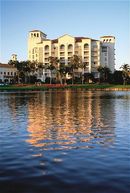 Next year's summit is being held at the spectacular Turnberry Isle Resort & Club in Aventura, Florida, not far from three major airports, including Miami International.
As an added plus, room rates remain a value for 2010 and regular registration prices remain the same as 2009's. 
We enjoyed an action-packed summit earlier this month in California - and from what attendees tell me, it was well worth the three days out of the office.  Todd Singleton, president and CEO of The Singleton Company Inc. (asi/328000), loved our speed networking session so much he says he's planning to adapt the same exercise for his client's next big event.  Todd told us:  "Kudos to ASI for putting on such a clever session to break the ice."
As many of you know, the Power Summit is the premier gathering for industry executives and influential business leaders.  Don't miss out on superior networking and idea generating sessions at next year's event, taking place Sunday, November 7, through Tuesday, November 9.
To register for the 2010 event at special early-bird rates, click here.  And to read more details, check out the press release click here.  You can also see photos and videos from this year's event here.
And I'd love to hear about your Power Summit experiences so post a comment or email me here.  I'm also on Twitter, LinkedIn and YouTube.