2009 Power Summit Happening Now
Monday November 2, 2009 | Filed under: Industry Initiatives, News About ASI
The ASI Power Summit 2009 at La Costa Resort and Spa near San Diego is underway.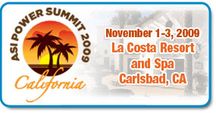 In the last 24 hours, we've enjoyed a speed networking event, a keynote speech by Hollywood marketing wiz Gordon Paddison and an interview with economics expert Roger Farmer, which yielded some fascinating answers.
Check out the photos we've posted so far by clicking here.  Much more news is coming through our editorial channels soon, so stay tuned!
If you're here with us in California, I'd love to know what you think so far, so post a comment or email me here.  I'm also on Twitter and LinkedIn.