Video About Incentivizing Top Reps
Thursday November 13, 2008 | Filed under: Education, Industry Initiatives, News About ASI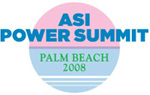 Keeping sales reps motivated to reach peak performance is a challenge for nearly every industry company and is a hot topic among peers and in our publications. 
On the final day of our ASI Power Summit we featured a panelist session about this - 'What Motivates Me": Incentivizing Top Reps'- with industry experts, top reps and successful executives who manage them all discussing what truly motivates these hard-driving salespeople to perform again and again.
Watch a video providing some key action items and ideas that surfaced that you can apply at your company to improve performance and retain the best reps including:
Hiring millenials and interns and providing motivating training for them.
Recruiting new reps from the pharma and real estate industries.
Provide service levels that aren't just product-focused, but also service-focused. 
It's all in the video - watch now.

During the session, we laid out the most effective compensation methods for top performers, explored key retention strategies and learned about the leadership styles that work best for motivating - and retaining - this elite group.  Panelists included Pat Cavanaugh, of Cavanaugh Marketing Network; Dan Welborne, of WorkflowOne; Greg Muzzillo, of Proforma; Ira Neaman, from Vantage Apparel; and myself as the moderator.

Watch for more information from these sessions in upcoming issues of Counselor magazine and our other magazines.

Tell me what you think anytime - post now on the blog or email me at tim.andrews@asicentral.com.  Also, you can see pictures from the ASI Power Summit at www.asicentral.com/powersummit.
Bookmark this on Delicious