Personalization, Technology, Ideas for Higher ROI
Friday March 28, 2008 | Filed under: News About ASI
Recently editors at ONE magazine - published by industry marketing services company WorkflowOne - spotlighted promotional products and the serious return on investment they're providing for clients.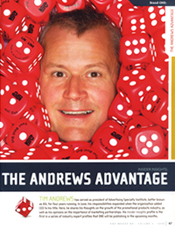 They also asked me why advertising specialties are becoming so popular all around, and I believe several elements are driving our industry's success:
• Technology.  We're all serving clients better and faster than ever.
• Tangible return-on-investment.  Marketers can include a promotional product in a direct mail campaign that says "click on this Website to receive your free hat" and the results can be tracked immediately.  How many people requested hats?  How many sales did you get from those who requested hats?
• Personalization.  A growing trend – technology now allows us to record a personalized message that plays when someone opens a bag.  That's interaction with a brand that few advertising mediums can match and it's hard for end-users to put them down.
For some additional thoughts and business tips, click here to read the article. 
Tell me what you're seeing in the market - post a comment now or email me anytime at tim.andrews@asicentral.com.  Also, stay informed and submit your email in the window called 'Enter your email for updates' at the top right of the screen and you'll get a note when my next post is live.