NYC Results – More Business for You, Barbara Corcoran Tips, USA Today Mention
Monday May 12, 2008 | Filed under: News About ASI
I wanted to let you know about last week's ASI New York Show and some feedback I've received from distributors and suppliers.
Attendance was higher than we anticipated - more than 2,800 distributors - and was up 50% from last year's Philadelphia show.
Suppliers told us that distributors attending were large customers and prospects and that they did above-average business. Many said that high-quality counts just as much, if not more than, quantity.
Early results from distributor surveys show that they were pleased with the variety of exhibitors - 500 suppliers total - including 100 not appearing at any other Northeast show.
Of course, there are things we'll do differently next year, when the show moves to early March. And, I welcome any suggestions.
In addition to Education Day and the two days of exhibits, we also hosted nearly 400 people at the annual Counselor Top 40 Awards dinner, where we named Jack Teague of BIC Graphic USA as Counselor Person of the Year.  He was honored for his leadership in product safety, social responsibility, sustainability and product innovation - and we can all learn several things about good business from Jack. 

Our keynote on Thursday was real estate entrepreneur Barbara Corcoran, who encouraged companies to use the press to market themselves.  Check out her tips for success in our video interview from Counselor PromoGram, at http://easylink.playstream.com/asitv/nycorcoran.wvx.  She was also on the TODAY Show the next day:  www.msnbc.msn.com/id/24528877/.
Also, check out some of the products featured in an article about the ASI Show in today's USA Today, at www.usatoday.com/money/advertising/adtrack/2008-05-11-ad-briefs_N.htm.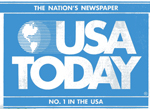 For complete multimedia coverage of ASI New York and the Counselor Awards, visit www.asicentral.com or www.asicentral.com/counselorawards.
There are too many people to thank by name for New York's success, so my personal thanks go out to every individual who helped to make this year a memorable, business-building event.
See you for ASI New York in 2009.  Tell me what you think about the show, or anything else on your mind – post now on the blog or email me at tim.andrews@asicentral.com.  Also, stay informed and submit your email in the window called 'Enter your email for updates' at the top right of the screen and you'll get a note when my next post is live.