New Study Reveals Value of Ad Specialties - From ASI Power Summit
Monday November 10, 2008 | Filed under: Education, Industry Initiatives, News About ASI, Research, Using Ad Specialties

The second ASI Power Summit - a meeting of nearly 200 top leaders from our industry is underway and it's already proving to be interactive and provocative in its first full day.
Last night we heard from Jack Teague - this year's Counselor Person of the Year and pictured right - in an exclusive on-stage interview during the opening dinner.  He shared his views and concerns about the industry, including:
The need for more suppliers to become certified in safety and compliance.  Right now, about 50% aren't certified, which is important in an industry where 60-70% of products are imported from overseas.
We collectively agree that the industry is large, but then how do we continue to improve upon value so that we're not selling to the same clients over and over? 
The fourth quarter will be challenging for us, and market share has been a little soft for us now.  But, this is a soft spot in the economy, and we go through the best of times and worst of times.
Also, in a special session today we released exclusive results from ASI's new advertising specialties effectiveness study that compares the amount of impressions for various advertising specialties against other forms of advertising - beneficial information for distributors to use to educate end-buyers and to encourage them to invest in ad specialties.

In the study, ASI found that:
84% of people remember advertisers on products they receive.
42% of respondents had a MORE favorable impression of an advertiser after receiving the item.
Nearly one quarter, or 24%, said they are MORE likely to do business with the advertiser on the items they receive.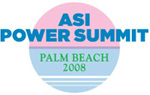 You can learn more findings from this research in the study, located at asicentral.com/study, or in the press release, posted at asicentral.com/pressroom, and I encourage you to forward the links to your customers and prospects.   

Watch the blog for more information and useful business advice and tips from the sessions over the next couple days of the ASI Power Summit. 

Tell me what you think anytime - post now on the blog or email me at tim.andrews@asicentral.com.  Visit youtube.com/timasitv for products from our trade shows.
Bookmark this on Delicious