Industry Trends from Dusseldorf
Thursday January 17, 2008 | Filed under: Education, Media Coverage
I just got back from the PSI Show in Dusseldorf – the largest advertising specialty show in Europe – and I wanted to share some industry trends and new products with you.
Some of these trends we're already seeing in North America right now and your clients may be asking for some of the new products if they aren't already.
Suppliers and distributors emphasized eco-friendly products, including Everything Environmental, a company that provides new High Twist pens made from recycled CD cases. Polyconcept showed items powered by water instead of electricity and wooden toys are gaining popularity in the wake of alleged higher lead levels in some products from China.

Also, products with metal and shiny accents were more common, like the jacket below that has metallic-finish wristbands.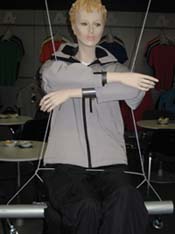 European promotional products organizations continue to be interested in the North American marketplace and I was invited to represent the States at an international press conference – where I met the mayor of Dusseldorf, Joachim Erwin. 
Later, I met up with Hans-Joachim Erbel, the executive director of PSI, and Francesc Angelet, CEO of MidOcean, one of the largest suppliers in Europe (pictured below). To round out the show I visited Sabine Geldermann, the director of the PSI Show, for a bite to eat and a toast at a reception celebrating the 50th anniversary of WAGE (World Advertising Gift Exchange) - an association of more than 25 members of distributor companies from different countries, including South Africa, Russia, Australia and Japan.
Let me know what you think anytime – post a comment now on the blog or email me at tim.andrews@asicentral.com.