Greetings from Big, Fat, Ugly Me
Wednesday September 24, 2008 | Filed under: Guest Blog, Using Ad Specialties
Guest blog from Kathy Huston, Advantages magazine editor:
Let me start by saying that I'm originally from Northern New Jersey.
This is why my colleagues here in Trevose, PA make fun of the way I say "cawfee," "chawklette," and "draws" (meaning, the things you store clothes in inside your dresser, or as I call it, your "chest-a-draws.")
Nowadays, as a transplant living in Langhorne - home of Reedman-Toll Auto World and Sesame Place and a suburb of Philly - I can say that while I totally disagree with this conclusion, I really don't take it too personally that Philadelphians are deemed the ugliest people in the history of the world.
OK, so that's taking it a little too far, but the City of Brotherly Love was, in fact, named the city with the ugliest people, according to Travel & Leisure's "America's Favorite Cities 2008" survey.  Where's the love, brother?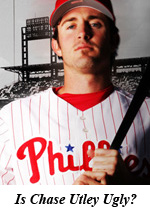 And it's not the first time for that dubious distinction either.  Have these people never seen Chase Utley?  As our editorial intern, Maurin Walchak, says about the second baseman for the Phillies, "Second-base Chase makes my heart race."  Agreed.  And he is only one of a ton of very attractive Greater Philadelphians.  Go to www.phillystylemag.com to see more.  Better yet, come for a visit.
Plus, Philadelphians are allegedly among the least stylish and least friendly.  Are they kidding me?  As if all that isn't insulting enough, last year, the American Obesity Association ranked Philly in the top 10 cities with the fattest populations.  Thanks, cheesesteak inventor, soft-pretzel makers...and yes, you too, Tastykake bakers (I could go for one of each right about now).
The Web site www.brandcurve.com says, "Looks like it's time for Philadelphia to revamp, revitalize and rebrand!"  On that note, the Greater Philadelphia Tourism Marketing Corporation did unveil a new marketing campaign just before the summer to entice travelers to visit Philly and its surrounding areas.  The slogan: "Philly's More Fun."  
Maybe one of you clever promotional gurus can help out with a "Philly's Phat" campaign to combat the "Philly's Fat" designation.  Suppliers, what do you think?  Can you help a brother (sister) out?  Think "Phat" hats; highly attractive bobble-head dolls; T-shirts that say "Pretty Philadelphian" and "Keystone Cool."  Let's turn this thing around.  Fellow Philadelphians unite!
Or we can just go drown our sad, fat, ugly sorrows in Yuengling lager, brewed right here in the Greater Philly area.  That should add another five pounds, but on a more positive note, even the ugliest Philadelphians will look better through beer goggles.
I'm joking, Philly!  For the editorial team's take on whether or not we are so very hideous and even more opinionated discussions, watch a video replay of the most recent ASI Radio Show - at asicentral.com/radio.
Post a comment now or email Kathy, at khuston@asicentral.com.  Also, stay informed and submit your email address in the window called 'Enter your email for updates' at the top right of the screen and you'll receive a note when the next post goes live.
Bookmark this on Delicious