From Chicago: Watch Video of 7 Products to Sell
Thursday July 24, 2008 | Filed under: Education, Members, News About ASI, Using Ad Specialties
ASI Chicago has been great and I found seven unique products at the show that you can sell to your clients.  See them now in my video, right from the ASI booth.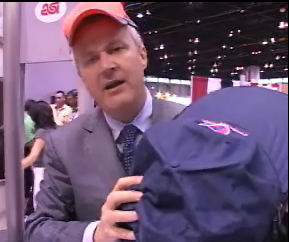 Nearly 800 suppliers are here - 200 of them did not exhibit last year and 129 are exhibiting at their first industry show.  So it was hard to decide which products to feature.  Watch now.
The video includes:
100% polyester USA-made cap, from Bodek & Rhodes, asi/40788
Customized photo mouse pad, from Digispec, asi/49716
Pinwheel business card holder, from PromoBiz USA, asi/79903
Baseball cap back pack, from Vacumi, asi/93211
Individual lint removers, from 3M, asi/91240
Patriotic lighted fan, from Clegg Industries, asi/45450
Tradewinds eco-pen, from Bullet Line, asi/42424
Tell me what you think about ASI Chicago and other products you've seen this year, or anything else on your mind - post now on the blog or email me anytime, at tim.andrews@asicentral.com. 

Check out more product videos from ASI Shows this year, at youtube.com/timasitv.