Free Online Sales Tools and Networking Ready Today
Monday February 25, 2008 | Filed under: News About ASI
Today we launched free marketing resources Websites for you to use to increase leads and improve your business - at www.thenumberthatmatters.com/marketing.
The Websites provide you with more than 20 marketing and sales tools, including a customizable end-buyer sales sheet, lead tracking sheet, end-buyer research, Internet marketing advice, an email version of Successful Promotions magazine to send to clients, and a link to the new ASI Social Network – at www.asinetwork.com.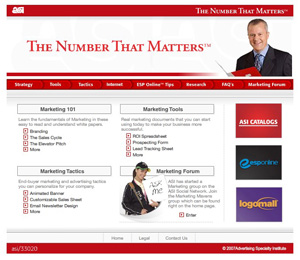 The ASI Social Network is an online community that allows ASI members to connect and share advice, ideas and business experiences with other industry professionals. You can create a customized Web page and upload photos and videos, and can also join related groups and post comments. More than 1,600 ASI members have joined during its introduction phase.
The Websites also feature marketing tips for subscribers to ESP Online, and users can learn more about the new Event Planner - a tool to help customers select and buy appropriate advertising specialties for events - and how to target prospects.
We spend over $1.3 million each year on education - another number that matters - and our marketing team has worked hard to provide valuable knowledge and useful resources on these sites to help you increase sales and increase the effectiveness of your marketing.
You can log-on to the sites whenever you wish and they're creative, educational and interactive online spaces that represent the forward-thinking technology that ASI is known for.
New materials and features are being added often.
Let me know what you think about the sites or anything else on your mind – post now on the blog or email me anytime, at tim.andrews@asicentral.com.
Also, stay informed and submit your email address in the window called 'Enter your email for updates' at the top right of the screen and you'll receive a note when there's a new blog post.