Distributor Choice Awards and Business Examples From Supplier of the Year
Thursday January 3, 2008 | Filed under: News About ASI
We just announced the winners of the 2008 Counselor Distributor Choice Awards at ASI Orlando.
These popular awards recognize the most-valued ASI suppliers in 42 product categories, determined by ASI supplier performance ratings and real votes cast by ASI distributor peers.  Over 230 finalists were recognized and 33 suppliers named winners at the ceremony at the Hard Rock Live Universal Studios.
There were 40% more finalists this year versus last - an increase that indicates a solid turnout of distributor voters, the addition of new product categories and a healthy industry.
The Supplier of the Year award, the honor that recognizes the best overall results from all votes, was presented to Journalbooks/Timeplanner Calendars – which has consistently outperformed its peers by ranking first place in all of these areas of the ASI Supplier Ratings: quality, communication, delivery, problem resolution and imprinting. The combined rating was 4.91 out of 5 stars.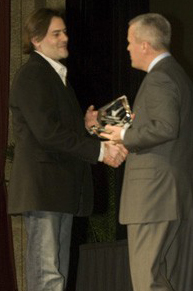 But being named Supplier of the Year is more than just about the numbers.
Here are two examples why Journalbooks/Timeplanner Calendars is the Supplier of the Year.
The first is a personal story. A few years ago, at a two-day industry event, 40 of us were in a session on how to better manage our business. One of the ideas was to recognize employees –and to do so by keeping a notebook, by employee, of things they had done during the year.
So, the next day, completely by surprise, one of the owners of the Supplier of the Year walked in with – guess what? – a custom notebook for each of us to take back.
This hadn't been planned ahead – he had called the office, faxed off the design for the pages and his company had printed and shipped the journal to arrive the next day.
Not only was it a useful gift, but it also was something I've remembered – and used – every day since.
Here's another example.
A call comes in from a distributor, checking to make sure an order for 5,000 books was shipped on time. Unfortunately, customer service found that an error – in order entry – meant the books were on a train and not on a plane. That meant the order was going to arrive several days late. Instead of saying "sorry, we goofed," this supplier did what was right.  In a matter of hours, they reprinted the inserts for the 5,000 journals, bounded and imprinted them and then shipped them overnight – just in time for the client's conference.
They took responsibility, stepped up, and did what was right. It's exactly these types of adrenaline-pumping situations that test the strength of a supplier-distributor relationship.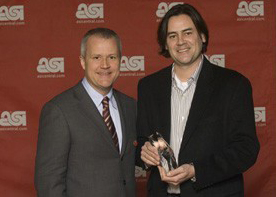 And, while we might all wish that's the way it always is, it isn't – our Supplier of the Year sets a standard by which we should all be judged, and by which we all should judge.
Congratulations to Tim O'Boyle (pictured above with award) and the entire team at longtime industry company, Journalbooks/Timeplanner Calendars, and to each of this year's winners.
For the complete list of winners and finalists, and to view photos from the awards event, visit www.asicentral.com/dcawards.
Tell me what you think anytime – post now on the blog or email me at tim.andrews@asicentral.com.