Bonjour! New Products from ASI Canada and Toast Your Buns
Tuesday April 29, 2008 | Filed under: Guest Blog, News About ASI
From Colin Graf, marketing manager for ASI catalogs:
Bonjour! I recently returned from the great north city of Toronto at ASI Canada's spring seminars, along with Jay Ostrow from ASI.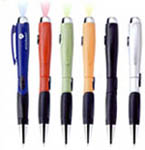 When I say spring, I mean 0 degrees Celsius. That's about 32 degrees Fahrenheit for all you yanks. My good friend Fred Oesen, vice president of ASI Canada, taught me an easy conversion trick. Multiply by two and add 32. But no matter what way you convert it, it didn't feel like spring.
There were several interesting products on display and as is the trend at many of the events that I've been attending, "green" is hot! Also, the new Blossom Ballpoint line of pens from Spector Image (asi/88660) were noticeable, since they're not only pens, but also lights with the color of the light matching the color of the pen.
Another cool product was the hotdog stand from Bonica Precision (asi/40903) - a compact version of the old style hot dog roller with an integrated toaster oven to toast your buns. If only I had room in my suitcase, my kitchen would have had a new toy.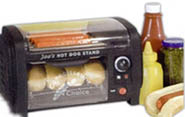 Anyway, the ASI Canada seminars are held in a very personal roundtable format that give each supplier involved 15 minutes of face-time with six to eight distributors at a time. These are held twice a year in both western and eastern Canada. The attendance and interest this time around was great and the feedback from both sides has been nothing but positive. Both groups seem to really enjoy the half-day seminars, and hey...breakfast and lunch is included. A win, win.
In this industry the building of relationships is essential, and that's what these seminars are all about. I know I made some good friends on this trip. I had a great time with Bernie from Minimedia (asi/71475) and Brent from Bonica, and Alex from Debco Bag (asi/821555) was dependable for a good laugh.
Jay handled the ASI table, covering everything from catalogs to LogoMall. The main focus of interest was overwhelmingly for ESP Online, and he demonstrated the basics for beginners and the tricks, advanced features and ins-and-outs for the current users. It seemed everyone walked away impressed, even the doubters. On the way home, Jay and I discussed how satisfying it was to be able to help so many people optimize their use of ESP and see the wide-eyed amazement from the non-users. I'm sure he'll be hearing from quite a few of the week's attendees.
All in all, it was a successful trip. We even had a chance to sample local flavors from the Sleeman and Steam Whistle Breweries. I highly recommend the Steam Whistle Pilsner – check out the imprinted glass.
What do you think? Post now on the blog, or email Colin, at cgraf@asicentral.com.