ASI Wins Three National Editorial Excellence Awards
Friday July 25, 2008 | Filed under: Members, News About ASI, Using Ad Specialties
While traveling from ASI Chicago I learned that ASI was named winner of three national American Society of Business Publication Editors awards for editorial excellence.
ASI was selected as a winner among widely-acknowledged publications in the competition, including BusinessWeek, Computerworld, Fortune Small Business and PC Magazine.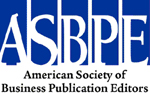 The ASBPE trade group reviewed more than 2,300 entries nationwide and selected Counselor magazine's "Apparel Hot Sheet" and "State of the Industry" issue, and Wearables magazine's "Fashion Trends" feature for their outstanding content.
I'm particularly excited because these awards reflect an emphasis on the integrity of information and educational resources available in our publications to help ASI distributors and suppliers - you - learn about new products and grow their businesses everyday.
The "Fashion Trends" and "Apparel Hot Sheet" sections provide ASI distributors and decorators with new apparel products and trends that they can use to increase sales.  The "State of the Industry" issue from Counselor magazine provides the most comprehensive and trusted annual report about the advertising specialty industry, including top sales markets and best practices, to over 15,000 paying subscribers. 
Advertisers should be proud to be featured in all seven of ASI's magazines - the most nationally recognized in the industry for editorial quality. 
Congratulations to the editors of these features and to the entire staff at all of our magazines
You can see a complete list of this year's winners and finalists at www.asbpe.org.
Tell me what you think anytime - post now on the blog or email me at tim.andrews@asicentral.com.  For new products from our shows, watch my videos on YouTube, at youtube.com/timasitv.