ASI Power Summit Video of Distributor-Supplier Roundtable, New Power 50
Tuesday November 11, 2008 | Filed under: Education, Industry Initiatives, News About ASI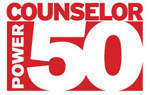 At the ASI Power Summit we just announced the third annual Counselor Power 50 ranking of the most influential leaders in the advertising specialty industry. 
You might be surprised who's near the top of the list - especially since there are 13 newcomers - and can find out who's on the complete ranking at asicentral.com/power50.  Check out an upcoming issue of Counselor for stories behind these dynamic movers and shakers and knowledge you can use for your business.
Also, watch a video with ideas and action items that emerged from the "Distributor & Supplier Roundtable" session, an open discussion focusing on issues affecting distributors, suppliers and end-buyers, including:
Views on putting prices in printed catalogs
Whether order sizes are going up or down and price increases
What level distributors and suppliers feel they're knowledgeable about compliance (90% of distributors said they're not)
To watch the video with perhaps surprising results to these questions, click here.

In addition, check out photos from the ASI Power Summit anytime, at asicentral.com/powersummit.  Tell me what you think - post now on the blog or email me at tim.andrews@asicentral.com.
Bookmark this on Delicious