Ad Specialties on TV in Dallas - Industry Exposure
Wednesday February 13, 2008 | Filed under: Education, Media Coverage, News About ASI
I think it's important for our industry to educate buyers about advertising specialties and the unlimited creativity, flexibility and branding power that promotional products provide for marketers.
So I'd like to share a TV clip from ASI Dallas that aired on Channel 8, demonstrating popular products from suppliers at the show that are great for promotions and advertising.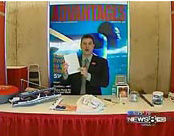 Watch the video now on the station's Website - at www.wfaa.com/video/index.html?nvid=216257 - it starts automatically.
Six products were featured from industry suppliers, including:        
Seed paper, from Okina/Symphony Seed Papers (asi/74930)
WavyWand programmable light stick, from Z Marketing Group (asi/98900)
Giant foam hats, from Spirit Industries (asi/88740)
Litecubes, from Litefx (asi/67740)
Scrolling message tags and digital picture frames, from Smartparts (asi/87805)
We've also updated ASICentral to include the clip, at http://asicentral.com/asp/open/AboutASI/pressRoom/tvclip.asp.
Let me know what you think anytime – post now on the blog or email me at tim.andrews@asicentral.com.
Also, stay informed and submit your email address in the window at the top right of the screen called 'Enter your email for updates' and you'll receive a note when there's a new blog post.