The Loss of a Colleague
Monday January 15, 2007 | Filed under: News About ASI
It is with deep sadness that I share news of the passing of Joan Viers, a 26-year employee of ASI and a trusted, engaging colleague.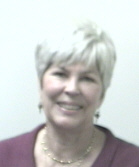 Joan, married to ASI senior credit specialist, Mel Viers, worked in our purchasing and facilities department and she managed much of the printing of our marketing materials and of our magazines - as well as the acquisition of furniture and other supplies.
But no brief job description can capture the energy and enthusiasm that Joan brought to her job and we will all miss the sound of her voice yelling down the hall in response to a question, or coming around to make sure that she's got someone's needs exactly understood so everyone will be happy.
In lieu of flowers, donations to the American Red Cross would be appreciated by her family and can be sent to: American Red Cross, Lower Bucks County Chapter, 1909 New Rodgers Road, Levittown, PA, 19056.
Our hearts go out to her family and friends during this week of mourning.
-TA