Social What? Watch Video About Social Networking to Grow Business
Friday August 3, 2007 | Filed under: Education, News About ASI, Using Ad Specialties
Distributors, suppliers and decorators have been asking me about the concept of social networking and what it means for them.
Social networking allows us to bring our customers, peers and colleagues together online to share ideas, feedback and thoughts openly – like with Webinars, chat rooms, blogs and other online forums.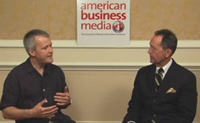 People can visit a series of social networking sites, which can all come together to comprise what essentially is a virtual, online community in cyberspace. People stop at and visit their sites whenever they want, stay as long as they like, and come and go as they please.
For business and the advertising specialty industry, the concept means that more conversations that used to take place in "smoke-filled," back-room meetings at companies are now being discussed openly as part of always-on channels with two-way communication on the Web. Social networking also allows you to provide ideas for clients in real-time, so they can grow their businesses.
For example, if you're a supplier launching a new product, you can invite your distributor clients to a Webinar to learn about the features of your product and creative ways to sell it. Then, you can provide a chat board when it's over, where Webinar attendees can go to post comments or have an open conversation about your product. You sell more and they sell more.
We've been using interactive online training Webinars at ASI, ASIGroups message boards and this blog as ways for our members to participate in social networking and connect more with each other and ASI.
Here's a video interview of me with more about social networking for business from a conference hosted by American Business Media, the leading B-to-B organization: www.americanbusinessmedia.com/abm/Default.asp.
Post on the blog now about social networking, or email me anytime at tim.andrews@asicentral.com.
Regards,
TA