Show Buzz From Dallas with Video | Where's 2007 Heading?
Tuesday February 13, 2007 | Filed under: News About ASI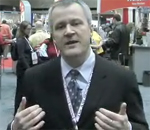 Dallas shaped up to be another blockbuster ASI Show.
Coming off of the heels of record-breaking attendance in Orlando, last week's Dallas show had its own share of buzz, with ASI Show president Matthew Cohn telling me late Friday that more than 3,700 distributors attended – up 12% from last year and a new Dallas Show record. See and hear more about this show in an amateur video I made from the ASI booth.
On Education Day alone, nearly 800 people attended a variety of seminars, sessions and trainings. That's a great sign, because we're all better off when distributors spend time learning about the industry, how to service clients, and ways to make their businesses more productive and more profitable.
Here are some observations from ASI Show Dallas:
Wearables continue to be a hot, growing segment - it's been the top sales category for the last five years, according to Counselor magazine's annual "State of the Industry" issue. While there's certainly many types of imprintable clothing, and many price points, SanMar (asi/84863) is testing the high-end with the new launch of "Red House: The Wine Country Lifestyle," a luxury line of wearables for men and women made from high-quality cotton, leather, silk, linen and cashmere. Marty Lott, who founded the company in 1971, spent time with me on the Dallas Show floor discussing the launch and its early success - in the first month he's ahead of his own projections and distributors visiting the SanMar booth in Dallas we're really excited about what they saw. The prices are high for our industry – a men's calf suede jacket lists for $350. But Marty says he's competing with alternative promotional items on the high-end, like leather goods, branded electronics and the like, and not necessarily other wearables. Check out www.redhouse.com to see what SanMar, the 2007 ASI Distributors' Choice "Supplier of the Year," is up to with this new line. I think you're going to continue to see higher-quality and higher-priced items as our strong economy continues to stay strong, and people want more items they can compare in quality to "store bought" goods.
A little advertisement - In case you missed it, we launched three magazines in January to serve distributors, suppliers and decorators active in the wearables market - Wearables Business and Stitches (which are revivals of two old friends) and Uniforms. Our editorial and business teams kept the good and threw out the not-as-good, increasing quality and providing ways for everyone to make more money selling wearables.
Speaking of quality - many suppliers in Dallas and in Orlando told me that China has finally "figured out" quality...one going so far as to stay that, despite his own political wishes, he's importing from China now because there's "no difference at all" between his formerly USA-made products and China-made products in terms of quality and workmanship. For someone whose father worked in a plastics factory in Indiana for 40 years, this is sad news.
Another trend is how technology is continuing to transform - how ASI distributors and suppliers do business. I don't necessarily say this to market ASI on my blog, but there was a lot of buzz in Dallas for ESP Online, our industry-leading business management tool that now has more than 26,000 paying users. The big talk was about virtual samples, the ability to put a client's logo on any of the 750,000 supplier products in ESP Online and ship a professional presentation via e-mail. It's a wow, takes five minutes, and helps close more business faster. There's information at www.asicentral.com/esp.
The final trend I'd like to note is not necessarily new - the business model of distributor/supplier/end-user in North America continues to truly be the best, most cost-effective model I can imagine for sourcing, warehousing, decorating, selling and distributing ad specialties. Our longtime model is also getting increased interest from Europe. Last month, I was in Dusseldorf, Germany, for the PSI Show – the leading European promotional products show. While there, many suppliers and distributors were interested to learn about how the North American model works. In Europe, distributors warehouse and imprint products and suppliers don't typically imprint – not even hard goods. Some suppliers are looking at how they might adopt the North American model and make it work. Distributors are concerned their "value add" - imprinting - might go away.
I think the biggest overall trend is that distributors and suppliers are becoming more efficient - combining education, technology and smart business relationships into a business model that allows more time for prospecting for new clients and serving existing ones with fresh ideas to solve marketing problems.
On a 100% personal note, I returned from Dallas in time for the annual Princeton University Museum of Art Gala, raising funds and building awareness for this great museum - and having lots of fun. Here are two pictures with my friend, Alison Badgett, who tolerated my bad dancing for the evening. (Alison is a Princeton grad and is the executive director of the Mercer Alliance to End Homelessness.)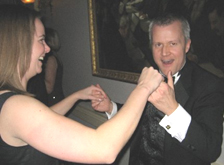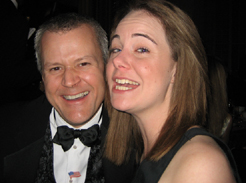 Agree with my trends or have some of your own you'd like to add? Let me know what you see happening this year – post now or email me at tim.andrews@asicentral.com.
-TA