Happy Thanksgiving
Monday December 3, 2007 | Filed under: News About ASI
I really enjoy keeping in touch with many of you throughout the year at industry shows and events, on email and via my blog and I value the conversations and contributions we make to our industry and for each other.
Our industry is alive and well, and as the holidays approach let's keep in mind people and families that could use our help.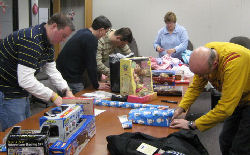 Distributor Services team at ASI wrapping gifts for Adopt-A-Family ASI is working with the American Red Cross and its Adopt-A-Family program again this year to purchase, wrap and deliver gifts to families who would otherwise not have them this holiday season. I encourage you to do the same or to participate in another program locally that expresses your appreciation for the things that matter every day in our lives.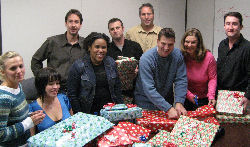 Marketing team at ASI preparing gifts for Adopt-A-Family
I'd like to wish you, your friends and family a Happy Thanksgiving and a joyous holiday season.
Warm regards,
TA
P.S. - Feel free to post on the blog or email me anytime, at tim.andrews@asicentral.com.