Guest Blog: Michele Bell's Travels and new Products from Overseas
Wednesday May 23, 2007 | Filed under: Community
From Michele Bell, Editor for ASI Publications:
Hello from Asia!
I have been busy traveling overseas with Rich Fairfield, ASI's senior vice president and publisher, and visited four trade shows that have advertising specialties: the Hong Kong Electronics Show, the Global Sources' Gift Show, the Canton Show in Guangzhou, China and the Hong Kong Gifts & Premium Fair.
There are many new ideas for distributors and suppliers at these shows, including some rather interesting, hi-tech products and also some that are practical and useful. They can get your clients talking and placing orders. Watch for many of these products to make their way to the States within the next few months.
So you can get a flavor of our trip, here's a photo diary of some of the more unusual products, interesting places, and industry friends.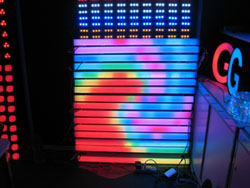 Products utilizing LED lights were a prevalent trend at each show. Rich, who is attracted to bright lights, like a house cat with a squeak toy, stopped at every single booth to gaze in wonderment.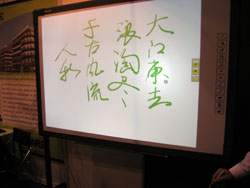 One of the coolest items we saw, utilizing a new technology, was this white board which can save anything that's written on it to your laptop. For those of you who are technophiles or for companies who hold a lot of statistic-intensive strategic meetings, this is the product for you.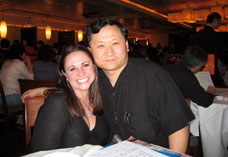 Kyu Lee, president and owner of JMTek, a Seattle-based supplier of USB drives, was a fabulously fun dinner companion.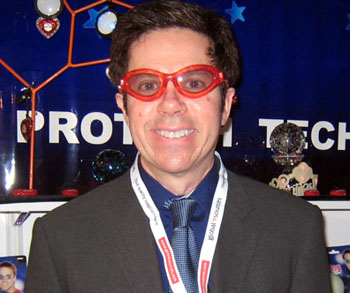 Rich, channeling his inner-Elton John, loved these LED-flashing glasses.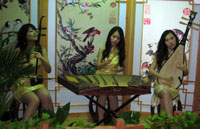 This trio of musicians greeted attendees at the entrance of the Canton Show in Guangzhou, China, and played soothing traditional Chinese music. That was nice, because with over 100,000 attendees all trying to make their way through the halls to see over 10,000 exhibitors, it was hectic to say the least.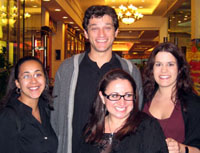 Melissa Barnhart from Compas, Inc., Dan Krassenstein from B.A.S., me and Nicole Woodland-De Van from Compas, Inc., after dinner in Guangzhou.
The Hong Kong Gifts & Premium Fair is the premier show in Asia and the one that attracts many suppliers in our industry. There were new trends and innovations in pens, electronics and desk accessories and a noticeable emphasis on design - much more so than in previous years.
So distributors, you can look forward to your suppliers bringing some unique, creative and interesting new items into their lines.
Ron Ball, ASI's vice president of supplier sales, took this photo of an item he says was his favorite and one he coveted for obvious reasons - it's a device that stimulates hair growth with electronic impulses. I didn't have the heart to tell Ron that I think the ship has already sailed on him growing a lustrous head of rock-star long hair.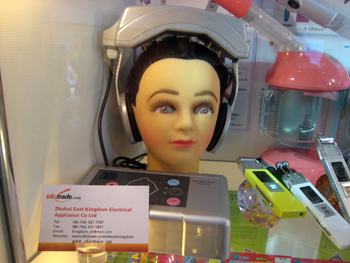 Two shots of the entrance to the massive Fair.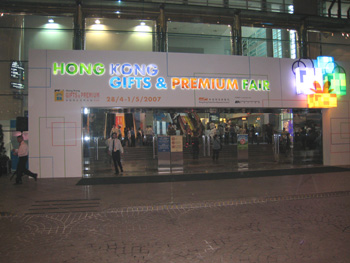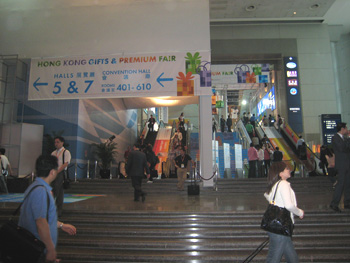 Each year during the Hong Kong Gifts & Premium Fair, Polyconcept - Europe's largest supplier and the owner of Counselor Top 20 companies Leed's and Bullet Line - throws a party at the Quarter Deck Club, which has a fabulous view overlooking Hong Kong harbor. Here, some photos of the hosts and attendees: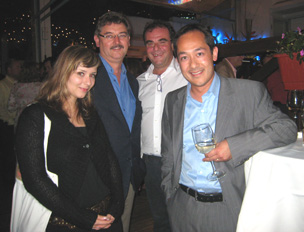 Isabel Friemann and her father, Heinz, a prominent distributor in Germany and a frequent visitor to the U.S. shows. Next to Heinz is Polyconcept CEO and chairman, Philippe Varnier, the 2006 Counselor International Person of the Year (along with Polyconcept's vice-chairman, Michael Bernstein), with CFO, Yann Leca. A little known fact about Varnier and Leca - they are dancing machines and I had to leave them on the dance floor for fear my lungs were going to shut down.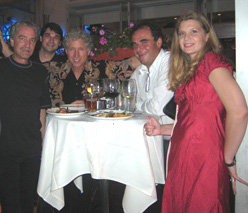 Jeff Kramer, Bullet Line founder, Matt Linderman from Austin, TX-based Express Pens, Richard Zawitz, owner of San Francisco-based Tangle Inc., Philippe Varnier and Agathe Rosenberg, controller for Polyconcept Asia.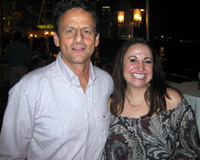 Me and Jay Reifer, Bullet Line's vice president of purchasing. Jay and Jeff Kramer attended the same high school in Pittsburgh, PA, called Taylor-Allderdice, that also graduated the likes of Tangle Inc.'s Richard Zawitz, Vantage owner Ira Neaman, and Tommy Bernstein, co-founder of Leed's.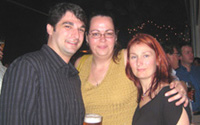 Express Pens' Matt Linderman and Melody Simmons, with Michelle Fernandez, of Bullet Line's purchasing team. It was Melody and Michelle's first trip to Asia and my fourth, so we had a lot to share! - Michele