GOT SPIRIT? | Super Embroidery redefines super…
Tuesday April 10, 2007 | Filed under: Members, News About ASI
The spirit found in running a family business is very evident in a story that Anna Johnson, owner and founder of Super Embroidery Inc., shared with us - as she was being presented with the Stitches Magazine Family Business award at the ASI Spirit Awards a few weeks ago.
Super Embroidery Inc. was started in 1990 by Anna, with just one employee and two embroidery machines.
Three years ago, her business was booming and running better than ever, and then in December, 2005, Anna had to leave the business due to an illness.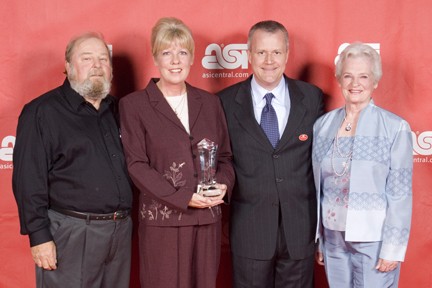 In the photo: Johnny Johnson, Anna's husband, with Anna, myself, and Lou Meagher, Anna's mother.
She started wondering what was going to happen next without her there to help her employees day-to-day, and Anna asked herself: "how should I handle my business from this moment on?"
She immediately started treatments to improve her health, and while she was away for six months benefiting from the medical attention, her managers and her mom ran the company. Her mom, Lou, was in her mid-70s at the time.
Anna was humbled by the loyalty and hard work that her employees demonstrated through that period.
Many tasks they just had to figure out with no direction, and her mother, in particular, put in very long hours to make sure that work was invoiced and that things were running as smoothly as possible.
Interestingly, Lou had originally come to work at Super Embroidery Inc. thinking that she was being offered a job simply because she had retired.
But, Anna actually offered her the job because she needed the help and because she valued the organizational skills her mother would bring.
After demonstrating her unwavering dedication to Anna's business, Anna decided shortly after returning to work that it was time to name her mom the CEO of Super Embroidery Inc.
This company embodies the very nature of the "pitch-in-and-help" attitude - especially during the rough patches - that's found in so many successful family-owned businesses.
At only a few years later now, Anna's business is thriving. There are 47 full-time employees and revenues of more than $2.5 million.
Congratulations to Anna, her mother and the entire Super Embroidery team for being awarded this year's Stitches Magazine Family Business Award.
To view photos and the complete list of winners from the ASI Spirit Awards, click: www.asicentral.com/asp/open/EducationAndEvents/SpiritAwards/photos.asp.
I'd like to hear your family business story – feel free to post it on the blog now or email me at tim.andrews@asicentral.com.
TA