GOT SPIRIT? Geiger's Spirit Awards story inspires growth | plus Jay Leno and Vegas pics
Thursday March 22, 2007 | Filed under: Members, News About ASI
We're back from the 2007 ASI Spirit Awards at the ASI Show Las Vegas – where the show delivered on our projection of over 3,700 attendees – and this year's Spirit Awards ceremony was more exciting than ever.
In addition to celebrating innovative advertising and outstanding customer service and honoring the fastest-growing suppliers and distributors, we acknowledged three family businesses that represent the best practices in family business and our industry.
The backgrounds of the family businesses honored – Geiger, SnugZ and Super Embroidery – are fascinating and each tells a unique story that reflects the dynamic and innovative nature of our industry.
We can all learn a thing or two from each of them about how to use our business skills, push our personal abilities and even draw upon our imaginations to grow sales, and I'd like to share part of the story of Geiger - our "Distributor Family Business of the Year."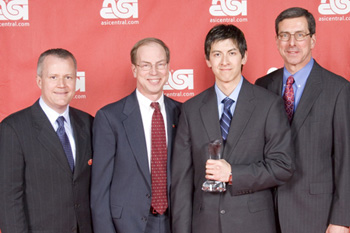 In the photo above is myself, left, with the Geigers - Peter, Jeff, and Gene (president). Click here to watch a video interview of Gene after accepting the award.
Geiger is a fourth-generation company that was founded in 1878 - the same year that Thomas Edison produced the first light bulb. Brothers Andrew and Jacob Geiger hung out their shop's sign a little more than a decade after the Civil War - selling novelties, printed calendars and other printed executive gifts.
On top of their love for ad specialties, Raymond Geiger, father of Gene Geiger, who is the current president today, developed the Farmers' Almanac with his brother, Frank O. It contained advice on weather, gardening, planting, astronomical phenomena, and its yearly collection of maxims and advice. Raymond served as editor for 60 years – and currently, Peter, Gene's brother and an integral part of the organization, is the editor.
In the workplace, Geiger established a credo they call the "Geiger Way", consisting of nine points that provide a boilerplate for the organization's culture and focus on quality, continuous improvement and giving back to the community.
The Geiger Way is all about respect: for employees, their sales force, their vendors, and their clients.
There is also a two-fold support system that aims to share profits and to always invest in the company to update equipment and facilities.
Geiger has worked hard to disintegrate divides between owners and employees, and several non-family members hold significant positions of influence in the company. Owners recognize the strengths of employees, allowing them to grow.
The company's greatest accomplishment in 2006 was the successful transition of the Forrester-Smith acquisition. A great deal of planning went into making this transition as seamless as possible, and all salespeople from Forrester-Smith have stayed with Geiger. No easy feat.
There are more stories, and I'll be posting two more soon about the other family business award-winners.
Congratulations to all of this year's winners – you can see the full list by clicking: http://asicentral.com/asp/open/EducationAndEvents/SpiritAwards/winners.asp.
To see photos from the Spirit Awards event, click: www.asicentral.com/asp/open/EducationAndEvents/SpiritAwards/photos.asp.
You can also watch video interviews from three other winners who share their thoughts about what drives their success – just click the links in the box called "Live from the floor", near the top of www.asicentral.com. And for fun, here are some pictures from the show…With Jay Leno - who was hilarious during his Jay Leno LIVE! event: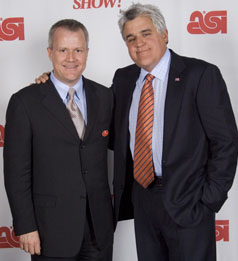 With ASI Show president, Matthew Cohn (center), presenting Jay Leno with a token of our appreciation: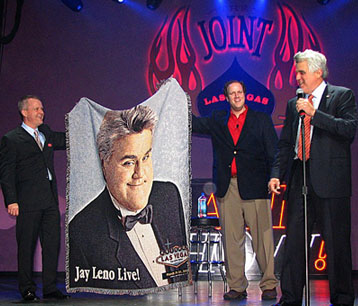 And enjoying meeting with clients on the floor: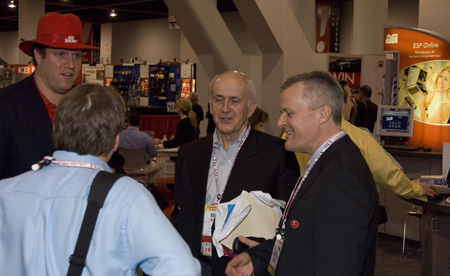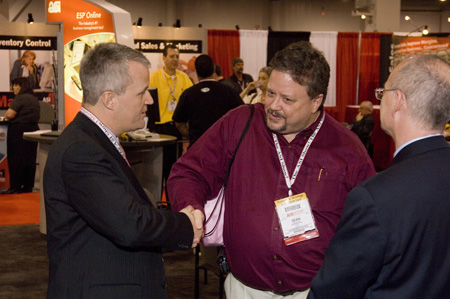 -TA