From Dusseldorf to Orlando, Colin Powell to Bold Fashions
Monday January 22, 2007 | Filed under: News About ASI
Who said there are too many shows?
It's been quite a year so far. Since the beginning of January, I've been on the road practically 100% of the time at shows and visiting with ASI distributors and suppliers. I always love hearing about people's businesses and learning all I can about what challenges they face and how ASI might be able to help.
I don't want to go on and on, but I thought I would highlight some of the recent shows I have attended and share my views, observations, opinions and general information.
In reverse order, here's where I've been and what I've seen during the past four weeks:
Orlando
If I hadn't talked to so many ecstatic suppliers and distributors, I would think that the enthusiasm and the energy and the pride I had in Orlando would have been only because I work at ASI. But I don't think there was a single person who came up to me and told me anything negative about the ASI Orlando show, which was January 18-20. Matthew Cohn, president of ASI Show!, and his team simply outdid themselves in many ways.
First of all, set up seemed to go extraordinarily smooth. It was a little warm in the exhibit hall, which we tried to correct as quickly as we could, but otherwise I think things moved along great.
Education day was crowded - make that packed - and around the registration desk all day it seemed as if the exhibit hall was already open. I really have never seen one of our shows so busy on education day and nearly 300 attendees came to my keynote session at 9:00 a.m. For something that didn't even have coffee or water being served, we had a full house and had to add dozens of chairs.
It's kind of funny, because the day before, Matthew and I were in the room and decided that not enough people would show up. We removed chairs and tables, but Natalie Townes, who runs our education sessions, told us we were dead wrong.
Of course, Natalie was right and the next day we had to add all of the tables and chairs back.
I think people had a good time and found the session to be educational and interesting. I don't yet have my scores and the comments from the session, but I'm hoping that there were some constructive criticisms so that when I give the education keynote session in Las Vegas on March 19 that I'll be better than I was in Orlando.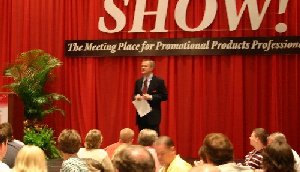 On the show floor, we broke every attendance record for an ASI show. I think it was because of a variety of reasons, including the number of distributors who were having meetings in Orlando – 13 distributors with about 800 people. We also had a slightly later date (because we moved the show after PPAI moved its show in conflict with ours), and I'm sure many people also came to the show because General Colin Powell was our scheduled keynote…more on that in a minute.
Suppliers were complaining about one thing on the show floor - that they maybe didn't bring enough people or did not have a big enough booth for all of the traffic.
It's always good to have a great event because it makes everyone feel good about the industry and good about the business we're all in.
Matthew and his team do a lot of surveying to determine what type of entertainment and what type of keynote to have at the shows. It's quite rigorous, and sometimes I think almost too much. But the turnout for General Powell proved that his research really does help make decisions. He was a high scorer among attendees and prospects of the show and more than 1,600 people were at the speech – breaking all prior keynote records. If you weren't there, you missed one of the best speakers I've ever heard - and I've heard dozens. He was insightful, quite funny, personable and demonstrated so much knowledge and history that I was in total awe.
General Powell had clearly read about and studied our industry and did an exceptional job weaving in comments about advertising specialties throughout his speech. He even mentioned that the plane he used to fly in was the ultimate branded item – with the United States of America painted along the side. General Powell even spent time with me after his speech walking the show floor and visiting with distributors and suppliers.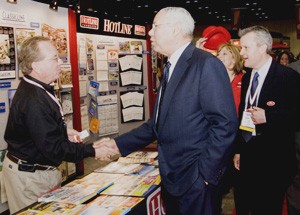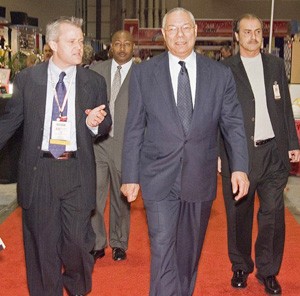 Other highlights were the gala, which was unusual because we rented an amusement park in addition to the food and club atmosphere, so everyone had a chance to do a little bit of everything.
And, our blowout fashion show, which was also a launch party for our three new magazines - Wearables Business, Stitches and Uniforms - had 18 hot models wearing the latest in wearables from our industry. We had over 300 people at that pre-gala event and we're thinking about doing it again next year.
To see pictures or learn more about the fashion show, click here.
PSI Dusseldorf
Before Orlando I went to the 45th annual PSI Show in Dusseldorf, Germany.
In terms of product, I'm very impressed at how focused the European companies are on design and style and was really happy to see that many suppliers were promoting the fact that their products are designed by them, exclusive to them and truly designed to be user-friendly and admired by the recipient. Counselor magazine is going to be highlighting product design, and rewarding and recognizing North American suppliers that do great design in 12 different product categories in its first-ever Product Design Awards – coming in the March issue.
The show is huge and many booths are thousands of square feet, including the booth for Polyconcept (which now owns Leed's and Bullet Line), which has 15,000 square feet. Many of the booths at the Dusseldorf show serve coffee, food, wine and soft drinks to visiting distributors, and there is much more of a "business meeting" environment in the booth. Of course the business model in Europe is quite different, and distributors are often placing orders when they're meeting with suppliers in the booth, because distributors warehouse and imprint products in Europe. Unlike the United States, suppliers in Europe do not typically imprint, even suppliers of hard goods.
Here's a picture of Counselor magazine on the welcome counter at the PSI booth.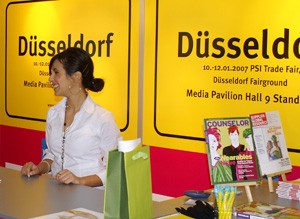 The ASI team was happy to be hosted by PSI for dinner twice while in Dusseldorf. One of those nights we celebrated with Sabine Gelderman, director of PSI Exhibitions, on her "29th birthday" – here she is at dinner with me.
I also was invited to attend the PPAI International Reception at one of the designated hotels at the PSI show, and was happy to meet some people there who I hadn't yet gotten to know. Perhaps most impressive was Gary Werner, a longtime international industry professional. Gary lives in Switzerland.
PPAI
Finally, the first show of the year that I attended was PPAI Expo in Las Vegas, where I enjoyed visiting with ASI distributors, suppliers and industry colleagues. A great show, with a much-improved awards event.
WHAT'S UP WITH YOU?
How's your experience been at the shows so far this year - what new products have you seen and how are you changing your business? Feel free to post on the blog or email me at tim.andrews@asicentral.com.
-TA