Counselor Wins Top Award for Family Business Coverage
Wednesday March 21, 2007 | Filed under: News About ASI

From New York City...
The leading organization in business publishing, American Business Media (ABM), just named Counselor as one of the best magazines for 2006.
Counselor was recognized for its monthly 'Family Business Spotlight' series with a Jesse H. Neal National Business Journalism Award. There were only 12 winners of a Neal Award this year - selected from more than 1,300 entries.
The award was presented Thursday at the annual ABM awards luncheon at the Waldorf-Astoria Hotel in New York City. I attended the event with Rich Fairfield, publisher; Melinda Ligos, editor-in-chief, and Andy Cohen, editor of Counselor. Photos courtesy: Doug Goodman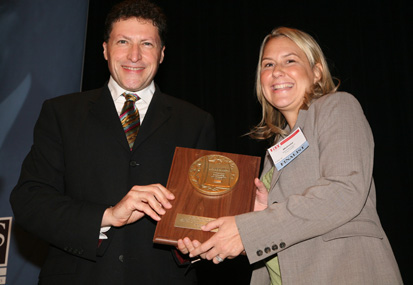 Melinda accepted the award, above, from Arnie Weissmann, editor-in-chief of Travel Weekly and chair of the Neal Awards Committee. Below, I'm pictured (left), with Melinda and Andy Cohen.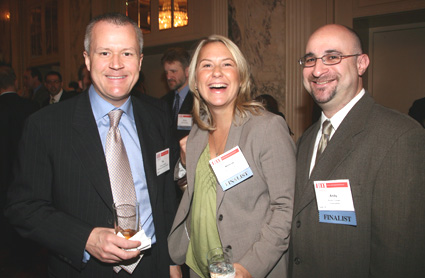 I'm proud that our industry already recognizes the quality of our products, including 'Voice of the Industry' Counselor, and that we help our members grow their businesses every day with education provided in each issue.
Today's recognition shows that we're also among the best in the nation on an even broader stage - across all of business publishing - an accomplishment I'm also very proud of.
We're in good company - other widely-recognized organizations nominated include BusinessWeek SmallBiz magazine, Computerworld magazine and Forbes.com, to name a few.
More about this prestigious award:
ABM refers to the Jesse H. Neal awards on its Website as "the Pulitzer Prize of the business media" and they are the industry's most prestigious and sought-after editorial honors.
Named after ABM's first managing director, who remained active in promoting the business press throughout his life, the Neal Awards were established in 1955 to recognize and reward editorial excellence in business media publications.
For more about ABM - click here.
To view the list of finalists, including ASI (on page two) - click here.
-TA