Baby's life saved | Real heroes where we live
Thursday April 12, 2007 | Filed under: Community, News About ASI
I believe that there are many hidden heroes living within our local communities, and that they have an impact on our lives every day through their volunteerism, admirable leadership, and heroic acts.
Alex Maratea, daughter of Jim Maratea, who works at ASI, is one of these people and she was just honored as a Real Hero by The American Red Cross for her bravery in saving the life of her nephew, Derrian.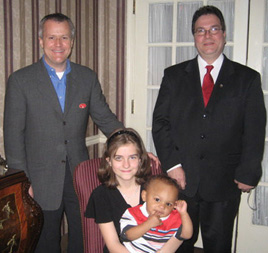 Me, with Alex Maratea and nephew, Derrian, and Jim Maratea at a recognition event hosted by the Red Cross.
Alex, eleven years old, performed an amazing rescue when she and her sister, Nikki, were waiting to purchase tickets to board a local train one day last February.
Derrian, just three weeks old at the time, was in his stroller and on the station's concrete platform with them.
While final arrangements were being made at the cashier's window, a sudden gust of wind pushed Derrian's stroller down the platform and over its edge. It landed on the tracks - four feet below - and in the path of an oncoming train.
Alex leapt onto the train tracks, took Derrian from the overturned stroller and handed him safely to Nikki, who was standing above.
Here's what an interview from a Philadelphia TV station captured Alex saying as she recalled the event: "I just jumped down and got him and I said Derrian, it's going to be fine. You've got to do what you've got to do."
To watch the full interview video, click the blue-and-white button that says "play" under the photo of the baby at this site:http://cbs3.com/local/local_story_052001907.html
Incidentally, it wasn't until after the rescue happened that Alex and Nikki were notified by authorities that Alex had avoided the electrified third rail during the heroic act, which no one knew was there.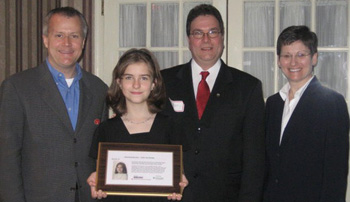 Me, with Alex Maratea, Jim Maratea and Carol Albright, vice president of human resources for ASI.
I'm very proud of Alex and I congratulate the Maratea family on their recognition.
Alex's bravery, her ability to put the needs of others before her own, and her positive attitude serve as an inspiration for all of us.
To read the stories of more Real Heroes honored by the Red Cross, click: http://redcrosslbcc.org/Events/Heroes_07/Heroe07A.html
Do you have a story about a hero or a special person who makes an impact in your community? I'd like to hear it – post it on the blog now or email me anytime at tim.andrews@asicentral.com.
TA