ASI Power Summit Coming | Ideas for Better Business
Thursday November 8, 2007 | Filed under: News About ASI
The inaugural ASI Power Summit will be starting this Sunday at the Arizona Biltmore Resort & Spa and I wanted to let you know that I'll be sharing some of the ideas, feedback and outcomes from the event here on my blog – including video interviews from the event.
The ASI Power Summit is a meeting of nearly 200 top leaders from inside and outside our industry – who will be sharing their thoughts, visions and industry experiences – and the goal of the exclusive event is to turn provocative and timely ideas into action to make business better.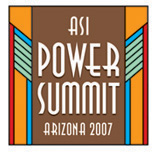 We'll delve head-on into many important industry topics, issues and trends in roundtable sessions, panelist discussions and conversations from networking, and surely some of those activities will spawn ideas for solutions to some of the our most pressing issues – like how to address concerns about product liability, safety and compliance, among others.
On Monday night, we'll also be revealing the Counselor Power 50 ranking for 2007 – the second annual list of the most influential and innovative leaders in the advertising specialty industry that is sure to spark debate in coming days. Twelve leaders are new to this year's ranking and you may be surprised who they are.
In addition to the blog, we'll provide coverage of the knowledge and outcomes of the Summit in upcoming issues of ASI's magazines, as one of our aims is to share the ideas that percolate from the event with the industry so we can apply them and make business better.
Also, be sure to also watch for news on ASI TV, at www.asicentral.com/asitv.
Tell me what you think anytime – post now on the blog or email me at tim.andrews@asicentral.com.
Regards,
TA